Monday, June 18, 2018
Adam Taylor takes the Nupafeed Supplements Senior Discovery Second Round at Speetley Equestrian Centre
Monday 19 June 2017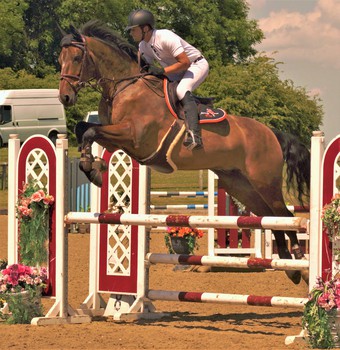 Making most of the good weather, a keen starting line-up of forty-eight combinations gathered at Speetley Equestrian Centre in Chesterfield, Derbyshire to contest the Nupafeed Supplements Senior Discovery Second Round and it was Adam Taylor who claimed victory with a super quick treble clear.
A place in the Nupafeed Supplements Senior Discovery Championship Final, which will be held during the British Showjumping National Championships in August, was the aim for each of the competitors leading to a very competitive class unfolding. The first two rounds saw twenty-three talented combinations left to go forward to the final jump off against the clock.
Adam Taylor from Newark, Nottinghamshire gave the winning performance on board his own 6 year-old bay gelding, Fahrenheit De La Malogne. This combination posted three clear rounds, knocking a fraction of a second off their nearest rival's time to cross the finish line in 43.37 seconds.
Continuing to display his weekend form, Adrian Speight from Grimsby, South Humberside took home second place with Catherine Gaudion's 8 year-old grey mare, Cheyenne Z. This partnership jumped three strong clear rounds to finish in a time of 43.90 seconds.
Taking home third place was Rebecca Butcher who travelled from Worksop, Nottinghamshire with her own 6 year-old bay mare, Handels Girl. This pair achieved their treble clear in 46.63 seconds.
With another eight combinations also achieving a treble clear, a total of eleven combinations now go forward to the Nupafeed Supplements Senior Discovery Championship Final.
Speetley Equestrian Centre – Sunday 18th June 2017
Nupafeed Supplements Senior Discovery Second Round
1st Adam Taylor & Fahrenheit De La Malogne – 0/0/0 – 43.47 seconds
2nd Adrian Speight & Cheyenne Z – 0/0/0 – 43.90 seconds
3rd Rebecca Butcher & Handels Girl – 0/0/0 – 46.63 seconds
4th Chantelle Duggan & Handels Smart Time – 0/0/0 – 48.19 seconds
5th Caroline Barnes & Tilla Flamenco – 0/0/0 – 48.99 seconds
6th Sarah Wain & Kroongraaf Amber – 0/0/0 – 50.70 seconds
7th Jai Snelling & Larocco A – 0/0/0 – 51.55 seconds
8th Sophie Clarke & My Maverick – 0/0/0 – 52.88 seconds
9th Gemma Chapman & Geronimo PC Z – 0/0/0 – 53.16 seconds
10th Ellie Clarke & Bengtsson II – 0/0/0 – 53.21 seconds
11th Megan Preedy & Lumbrook Lastic – 0/0/0 – 53.27 seconds
NB: Qualifications will be updated pending official grading of results.
Image Credit - Denis King
The British Showjumping National Championships 2017 will take place during the 8th – 13th August at the National Agricultural and Exhibition Centre (NAEC), Stoneleigh Park, Warwickshire.
Nupafeed Supplements:
Imported from Germany, Nupafeed supplements combine advanced scientific research with the highest quality ingredients to make their products truly unique. The Nupafeed range includes: the
highly acclaimed MAH® Liquid and Syringes to calm and reduce stress, Flex GLM (Green Lipped Mussel) joint supplement and Staying Power to aid energy, strength and stamina. Used by top professionals, including John Whitaker and Philip Miller, Nupafeed products are permitted for competition and are available by mail order. Nupafeed aims are to ensure an unbeatable quality of product, supplied with friendly and honest advice. The team have experience in conversing with customers who represent all levels of horse ownership, in every discipline. For more information, visit www.nupafeed.co.uk.