Alice Ellison heads the Horseware Bronze League Semi Final at The College Equestrian Centre, Keysoe
Tuesday 07 August 2018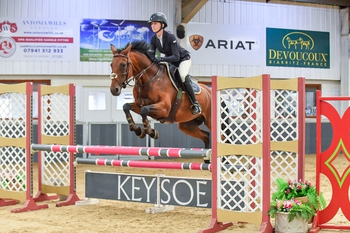 Alice Ellison booked her place at Horse of the Year Show with victory in the Horseware Bronze League Semi Final at The College Equestrian Centre, Keysoe in Bedfordshire, with Britney IV.
A total of forty-two competitors chased after the much-yearned for seven Horse of the Year Show tickets on offer with twenty-three producing initial clears over course-designer Dave Conway's 12-fence course to get one step closer to their goal. A further ten fell by the wayside in round two to leave thirteen for a hotly-contended jump-off.
It was Alice Ellison's day. Cambridgeshire based Alice found all the shortcut options on Sacha Ellison's 12-year-old Indoctro daughter Britney to gallop ahead and win by 0.49 seconds.
The lucky riders placed second to seventh also claim a finalist place in the Horseware Bronze League Final at the Horse of the Year Show at Birmingham's NEC between the 3rd – 7th October.
The College Equestrian Centre, Keysoe – Sunday 5th August 2018
Horseware Bronze League Semi Final
1st Alice Ellison & Britney IV – 0/0/0 – 39.93 seconds
2nd Hannah Thorne & Cinderella – 0/0/0 – 40.42 seconds
3rd Lily Storer & Private Call – 0/0/0 – 43.71 seconds
4th Mandy Dexter & Afleur – 0/0/0 – 43.93 seconds
5th Katrina Beney & Zoey – 0/0/0 – 47.77 seconds
6th Abigail Groves & Taal – 0/0/0 – 55.32 seconds
7th Steffi Riley & Singh Singh – 0/0/4 – 37.81 seconds
NB: Qualifications will be updated pending official grading of results.
Image Credit: Mark In Time Photography
Horseware:
Horseware was founded in 1985 in Dundalk, Ireland, by Tom and Carol MacGuinness. After months of research and hand stitching the prototype of the now iconic Rambo Original was born, setting the standard for modern rug design. Today, Horseware is the global leader in equestrian products, with a growing range of innovative, practical and design-led products for horses, riders and pets. All of Horseware's products are designed and developed in Dundalk, Ireland. Their Rambo turnouts are still manufactured in Dundalk where they employ 125 people. 250 people are employed Horseware's two factories in China, 80 in Cambodia and 36 in the USA. Horseware believes that 'because we create, we innovate' and through innovation aim to make a tangible difference to the lives of you, your horses, and your pets. For further information, please visit www.horseware.com.