Amy Inglis & Every Way victorious in Mechelen, Belgium
Tuesday 02 January 2018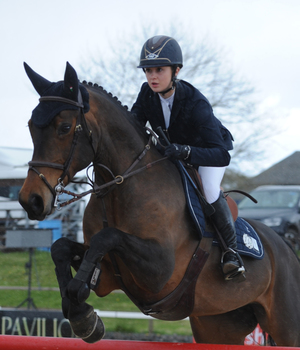 Amy Inglis concluded the show in Mechelen, Belgium in fine style as she took victory in the CSI2* 1.45m Grand Prix on board the 14 year-old bay mare, Every Way.
From a starting field of forty-five, only six combinations produced an initial clear to make it through to the jump off. Riding with speed and determination Amy delivered the only double clear of the class in 37.85 seconds to secure her place on the podium ahead of Belgium's Wouter Devos riding Tonik Hero and Sweden's Petronella Andersson on Burburry R who took second and third respectively.
Amy and Every Way had proved to be a formidable pairing just 24 hours prior to this when they finished second in the CSI5* & CSI2* 1.45m BHV Queens Cup. Competing against twenty-seven other lady riders, Amy held her nerve in the four horse jump off to deliver a quality performance that saw her finish in 36.00 seconds with 4 faults. Sweden's Petronella Andersson riding Mouse took first place with a double clear in 34.20 second while Belgium's Claire Putters and Fa Belle van Sombeke claimed third place.
For full results: http://bit.ly/2DeEX4O