Ben Walker secures the Equitop Myoplast Senior Foxhunter Second Round at The College Equestrian Centre, Keysoe
Friday 08 June 2018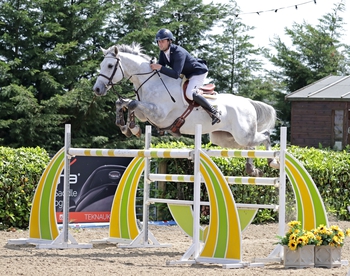 As a midweek treat, The College Equestrian Centre in Keysoe, Bedford held the next of the Equitop Myoplast Senior Foxhunter Second Rounds and it was Ben Walker who secured top spot with the only treble clear of the class.
With two direct qualifying tickets on offer for the Equitop Myoplast Senior Foxhunter Championship Final at Horse of the Year Show in October, each of the fifty-two starters were looking to produce a treble clear. The technical course saw poles fall during the first two rounds, leaving just five competitors to go forward to the final jump-off.
Ben Walker from Leamington Spa, Warwickshire rode three solid rounds on board Genius Contender, a 7 year-old grey gelding owned by Brendon Stud for first place. With the first two rounds offering plenty of challenges, Ben kept his focus to jump yet another clear in the final jump-off in just 45.91 seconds.
With the top two taking the direct qualifying tickets for the Equitop Myoplast Senior Foxhunter Championship Final, the combinations in third to fifth took home the chance to compete at the British Showjumping National Championships.
The College Equestrian Centre, Keysoe – Wednesday 6th June 2018
Equitop Myoplast Senior Foxhunter Second Round
1st Ben Walker & Genius Contender - 0/0/0 – 45.91 seconds
2nd Jessica Dimmock & Billy Fleance - 0/0/4 – 50.03 seconds
3rd Ben Walker & Native Warrior - 0/0/8 – 55.52 seconds
4th Sophie Fawcett & Diamino Blue – 0/0/8 – 56.06 seconds
5th Jack Whitaker & Leonardo VI – 0/0/12 – 49.23 seconds
NB: Qualifications will be updated pending official grading of results.
Image Credit - www.hoofprintsphotos.co.uk
The Horse of the Year Show 2018 will take place from the 3rd – 7th October at Birmingham's NEC. The British Showjumping National Championships 2018 will take place during the 7th – 12th August at the National Agricultural and Exhibition Centre (NAEC), Stoneleigh Park, Warwickshire.
Equitop Myoplast® is a unique amino acid supplement specifically designed to support lean muscle growth, helping horses to respond and cope with the demands of training and rehabilitation. The blend of amino acids in Equitop Myoplast supports lean muscle growth in older horses that lose condition easily, those in intensive training or competition as well as young and developing horses. This popular amino acid supplement is the leading equine supplement sold by veterinary surgeons in the UK(1). References – (1) GFK industry sales data MAT Jan 17. For more information please visit www.equitop-myoplast.co.uk.