Courtney Young secures the Blue Chip Pony Newcomers Second Round at The College Equestrian Centre, Keysoe
Wednesday 13 June 2018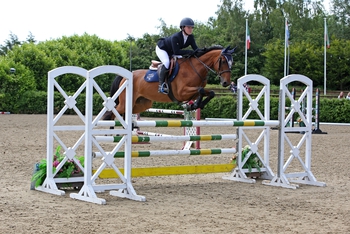 The College Equestrian Centre in Keysoe played host to a well-supported Blue Chip Pony Newcomers Second Round on Sunday and it was Courtney Young who jumped to victory with a cracking treble clear.
Every of the seventy-one riders was determined to secure the one of the two coveted Horse of the Year Show tickets on offer for this October's Blue Chip Pony Newcomers Championship Final and after two competitive rounds, a nail biting eight horse jump off unfolded.
Fifteen year-old Courtney Young from Basildon, Essex tackled the newly shortened course in fine style on board Marie Clark's 6 year-old bay gelding Neil 55. This pair were not fazed by the task ahead as they flew to the top of the leader board with a speedy clear in 40.79 seconds
The riders and ponies that finished in third to fifth took home the chance to compete in the Blue Chip Pony Newcomers Masters at the British Showjumping National Championships.
The College Equestrian Centre, Keysoe – Sunday 10th June 2018
Blue Chip Pony Newcomers Second Round
1st Courtney Young & Neil 55 – 0/0/0 – 40.79 seconds
2nd Rachel Proudley & Family Affaer II – 0/0/0 – 43.27 seconds
3rd Jessica Howard & Tinkas Gentleman Jim – 0/0/0 – 45.36 seconds
4th Megan Stanley & Ardwholihane Bouncer – 0/0/0 – 47.52 seconds
5th Courtney Young & Bacardi III – 0/0/4 – 41.21 seconds
NB: Qualifications will be updated pending grading of results.
Image Credit - www.hoofprintsphotos.co.uk
The Horse of the Year Show 2018 will take place from the 3rd – 7th October at Birmingham's NEC. The British Showjumping National Championships 2018 will take place during the 7th – 12th August at the National Agricultural and Exhibition Centre (NAEC), Stoneleigh Park, Warwickshire.
Blue Chip:
Blue Chip Feed Ltd produce the highest quality feed balancers and supplements available in the UK; there is a feed balancer for every stage in a horse's life to ensure optimum health and well-being. Blue Chip products are exported worldwide. For more information please visit www.bluechipfeed.com.