Monday, June 18, 2018
December's NAF Shining Star is awarded to Charlotte Young
Tuesday 10 January 2017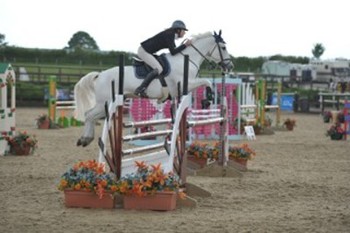 As dedicated, positive and supportive member of the Berkshire and Oxfordshire Junior Academy, we are pleased to announce Charlotte Young from Newbury, Berkshire has secured the NAF Shining Star Award for December 2016.
Charlotte was nominated for the award by Lead Coach Sharon Quant, who said the following about her nominee "Charlotte has been a member of Berkshire and Oxfordshire Junior Academy since she was 9 years old. As well as being a talented rider, 15 year old Charlotte is encouraging and supportive of the younger members of the academy and always has something positive to say to others riders when they go into the ring and when they come out, no matter what the outcome of their round. She is extremely helpful at academy events, offering practical help at every opportunity. Charlotte is a happy, positive and supportive member of the academy and we could not manage without her. She is dedicated and hardworking and always concentrates in lessons and other activities. Everyone at the academy is very proud, congratulations Charlotte! ".
Charlotte has been riding her pony Archers Delight since last spring. She has worked hard over the past few months to develop a relationship with him and progress through the classes, starting with British Novice and recently qualifying for the Blue Chip Sapphire Championship Final, as well as being placed 5th at the South View New Year Novice Championship. In the last few month Charlotte has also won the bright star and newcomer's first round. Charlotte is now making the move on to the challenge of horses, allowing her sister the opportunity to ride the lovely Archie. Charlotte hopes to qualify for the amateur classes, second rounds and children on horse's classes now and she will remain a much valued part of Berkshire and Oxfordshire Junior Academy.
When she was told of her award Charlotte said, "I was so surprised to get this award as there are other members of our Academy whom I would have thought to be more worthy. What I love about being a member of the academy is that you are training and learning but it takes all the pressure off as every session is different and fun and you get to do it with your friends! I would like to thank our lead coach Sharon Quant, as I have thoroughly enjoyed training with her throughout the year. I am so pleased that I have Archie as he has been able to build my confidence and take me to the next level."
Melissa Newman, NAF Brand Manager, added "It is so nice to see that Charlotte is encouraging of her friends and team mates, being positive is such an important aspect when it comes to progressing in sport and is evident in her latest results. It is lovely to hear that the academy would not manage without her! Well done on being a deserving Shining Star Charlotte."
Charlotte will kindly receive some NAF equine products to use alongside the supplements that she currently uses, which include; in the Pink Powder which offers her ponies' nutritional support for the gut to keep then in perfect jumping condition.
The NAF Shining Star Award was introduced when NAF became a British Showjumping Business Partner. The award is for members of a Junior Academy who have shown a great deal of commitment, progression and outstanding behaviour along with their riding ability and much more. Riders are nominated by their lead coach, and then judged and awarded by NAF to one person each month.