Elizabeth Baker scoops the Equithème Leading Pony Showjumper of the Year Qualifier at The College Equestrian Centre, Keysoe
Wednesday 13 June 2018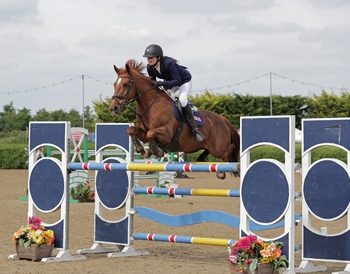 In a challenging Equithème Leading Pony Showjumper of the Year Qualifier at The College Equestrian Centre in Keysoe, Bedford, Elizabeth Baker rode the only clear round of the class to scoop first place.
Each of the thirty-four starters were keen to pick up one of the three qualification tickets on offer for the Championship Final held at Horse of the Year Show later this year. The technical course saw poles fall and only one clear produced in the first round.
Traveling from Eastry, Kent, 16 year-old Elizabeth Baker put in the winning performance on board Adams Fancy, a 13 year-old chestnut gelding owned by Piers Hammond. This combination kept a cool head to produce the only clear of the competition, crossing the finish line in 100.52 seconds.
The riders and ponies that finished in first to fourth took home the chance to compete in the Equithème National 148cm Championship at the British Showjumping National Championships.
The College Equestrian Centre, Keysoe – Saturday 9th June 2018
Equithème Leading Pony Showjumper of the Year Qualifier
1st Elizabeth Maker & Adams Fancy – 0 – 100.52 seconds
2nd Harry Wood & Sligo Furisto Flight – 4 – 92.90 seconds
3rd Claudia Moore & Delflip – 4 – 99.75 seconds
4th Megan Li & Harry – 4 – 103.32 seconds
NB: Qualifications will be updated pending grading of results.
Image Credit - www.hoofprintsphotos.co.uk
The Horse of the Year Show 2018 will take place from the 3rd – 7th October at Birmingham's NEC. The British Showjumping National Championships 2018 will take place during the 7th – 12th August at the National Agricultural and Exhibition Centre (NAEC), Stoneleigh Park, Warwickshire.
Equithème:
Established in 1985, Equithème has gone from strength to strength in creating beautiful collections for both horse and rider. Designing and developing matching collections using fun and vibrant colours, the stylish ranges make the brand stand out in the equestrian market around the world, by using high-tech quality fabrics and a focused attention to detail with a French touch. This established French brand is famous for its forward-thinking style and one of the most iconic collections across Europe. Horse wear and apparel by Equithème is always designed around what riders, horse owners and horses themselves need out of their clothing or equipment. For more information please visit http://www.equitheme.co.uk.