Emma Jo Slater is crowned KBIS Insurance Senior British Novice Champion
Saturday 12 August 2017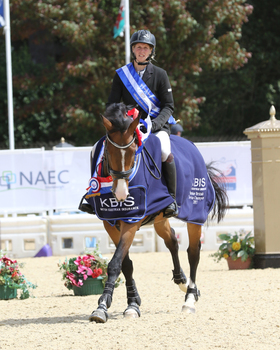 The second class of the day in Championship Arena 1 at the British Showjumping National Championships was the KBIS Insurance Senior British Novice Championship and this year the winner was Emma Jo Slater from Buckinghamshire riding eight year old Kings of Leon owned by Kim Barzilay.
With a total of 52 entries it was a closely contested class but the winning pair demonstrated an excellent round.
Speaking to owner Kim, she commented: "He [Kings of Leon] injured himself at Hickstead and had to go on box rest so it was touch and go whether we would make it here but luckily he came sound. This is his first competition since his injury so we are delighted to see him win here at the Championships. They are competing in the Nupafeed Supplements Senior Discovery Championship tomorrow on the last day of the show and the aim next year is to compete in the Second Round Newcomers."
KBIS British Equestrian Insurance:
KBIS British Equestrian Insurance is the UK's leading independent horse insurance specialists, With over twenty years of experience KBIS offer a range of policies for the leisure horse to high value sports horses with a range of veterinary cover options. KBIS's product range includes horsebox and trailer insurance, property insurance, event and show insurance, standalone personal accident cover as well as a specialist liability department offer cover for private individuals, businesses and events and shows. For further information, visit www.kbis.co.uk.