Monday, June 18, 2018
Georgie Crumley jumps to a Connolly's RED MILLS Senior Newcomers Second Round Win at Pyecombe Horse Show
Friday 14 July 2017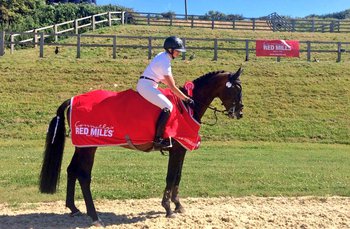 A fine crop of horses and riders gathered at Pyecombe Horse Show in Brighton, West Sussex to compete in the Connolly's RED MILLS Senior Newcomers Second Round and it was Georgie Crumley who jumped in to first place with an unstoppable treble clear performance.
Seventy-four starters were all vying for one of the two qualification places on offer for the Connolly's RED MILLS Senior Newcomers Championship Final, which will be held during this October's Horse of the Year Show, and this lead to a competitive class unfolding. Following two nail biting rounds, fifteen combinations had booked their place in the jump off.
Georgie Crumley from Cranleigh, Surrey jumped Khaled O.L, a 6 year-old bay gelding owned by Prince Saud, straight in to first place. After delivering two solid clear rounds to claim their place in the final jump off, this combination took on the newly shortened jump off course with a turn of speed to cross the finish line in an unbeatable 29.94 seconds.
Scooping second place was Nicole Pavitt from Crawley, West Sussex riding Tamara Czartoryska's 7 year-old brown stallion, HC Cornet. This pair gave a strong challenge, posting a treble clear in 30.47 seconds.
The riders and horses that finished in third to tenth took home the chance to compete in the Connolly's RED MILLS Senior Newcomers Masters at the British Showjumping National Championships.
Pyecombe Horse Show – Sunday 9th July 2017
Connolly's RED MILLS Senior Newcomers Second Round
1st Georgie Crumley & Khaled O.L – 0/0/0 – 29.94 seconds
2nd Nicole Pavitt & HC Cornet – 0/0/0 – 30.47 seconds
3rd Joesph Fernyhough & Calcourt Quicktime – 0/0/0 – 31.01 seconds
4th Jay Halim & Aragon Z – 0/0/0 – 31.05 seconds
5th Alice Palmer & Essenar Crixus – 0/0/0 – 31.99 seconds
6th Max Routledge & Centos Girl – 0/0/0 – 32.82 seconds
7th Nicole Pavitt & Gianni HC – 0/0/0 – 33.25 seconds
8th Nicole Pavitt & Newtonhill Monaco – 0/0/0 - 33.44 seconds
9th Lucy Townley & Billy Kodak – 0/0/0 – 36.68 seconds
10th Lucy Townley & Billy Tudor – 0/0/0 – 44.37 seconds
NB: Qualifications will be updated pending grading of results.
The Horse of the Year Show 2017 will take place from the 4th – 8th October at Birmingham's NEC. The British Showjumping National Championships 2016 will take place during the 8th – 13th August at the National Agricultural and Exhibition Centre (NAEC), Stoneleigh Park, Warwickshire.
Connolly's RED MILLS:
Connolly's RED MILLS is an Irish family owned company, providing precision nutrition for a wide range of equine needs. The company was established in 1908 in Co. Kilkenny, and today, exports to over 50 countries worldwide. For people who value their horses as high performers, Connolly's RED MILLS has been the automatic choice for over 100 years. We know just what it takes to get you the best results in terms of equine nutrition, health, well-being and performance. Some of the most successful high-performance sport horses in the world have been fed on Connolly's RED MILLS and we are delighted to launch our new dedicated Sport Horse range of feeds. The quality products that produce these results are supported by nutritional research along with some of the most technologically advanced innovation and manufacturing processes in the world. For further information, please visit www.redmills.co.uk/Horses/Home.