Georgie Roadnight triumphs in the Nupafeed Supplements Senior Discovery Second Round at Anvil Park Stud
Monday 17 June 2019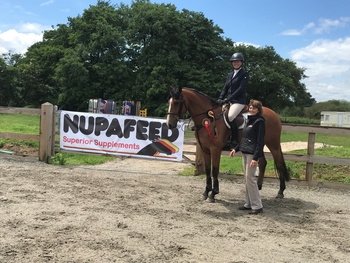 Anvil Park Stud in Norwich, Norfolk played host to one of two Nupafeed Senior Discovery Second Rounds that were taking place across the country on Sunday and it was Essex based Georgie Roadnight that took the win with her own Rich Ricardo.
Course designer Stephen Dye created a tough track to whittle the initial starting field down to twelve in the final round, all which stood between them and a qualifying ticket into the Nupafeed Supplements Senior Discovery Championship Final at the British Showjumping National Championships in August was the all-important third round clear and four were lucky enough to do so.
Georgie from Manningtree, Essex and Rich Ricardo, the 8 year-old Ricardo Z sired gelding, galloped ahead of her opponents and took a comfortable win with 8.45 seconds to spare crossing the line in 51.69 seconds. Stacey Webb was her closest rival aboard her own Newbridges Jackpot SW, a 5 year-old Dutch bred by Arezzo VDL who also qualified for the British Novice Final last month. They posted a time of 60.14 seconds. Philippa King steered her own Concordance Z into third whilst Abigail Steel produced the final treble clear with Mary Benjafield's DC Cordeila.
Anvil Park Stud – Sunday 16th June 2019
Nupafeed Supplements Senior Discovery Second Round
1st Georgie Roadnight & Rich Ricardo – 0/0/0 – 51.69 seconds
2nd Stacey Webb & Newbridges Jackpot SW – 0/0/0 – 60.14 seconds
3rd Philippa King & Concordance Z – 0/0/0 – 61.88 seconds
4th Abigail Steel & DC Cordeila – 0/0/0 - 68.36 seconds
NB: Qualifications will be updated pending official grading of results.
Image: Georgie Roadnight & Rich Ricardo with Sheila Noble of Nupafeed at Anvil Park Stud after the Nupafeed Senior Discovery Second Round on Sunday.
The British Showjumping National Championships 2019 will take place during the 6th – 11th August at the National Agricultural and Exhibition Centre (NAEC), Stoneleigh Park, Warwickshire.