Harriet Nuttall 3rd in CSIO5* Grand Prix of Switzerland
Friday 01 June 2018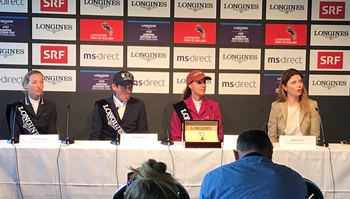 The CSIO5* 1.60m Grand Prix in St Gallen, Switzerland saw Harriet Nuttall from Yeovil, Somerset put in an outstanding performance to finish in 3rd place earlier this afternoon.
Riding her father Rupert's 14 year-old chestnut gelding A Touch Imperious, she secured 3rd position finishing on just 1 time penalty which had been picked up in the first round. Her second round clear was an incredibly good one which saw her post a time of 42.98 seconds. It was less than a second that separated her from 2nd place which was taken by Beat Mandli (SUI) and Dsarie when they, also having finished on 1 penalty point, stopped the clock in 41.42 seconds.
Luciana Diniz (POR) took the win with her top jumping 14 year-old mare Fit For Fun 13. They secure the win as the only combination to finish on zero penalties. Their time of 38.57 seconds had certainly been the one to beat with no other rider coming close despite putting their foot down against the clock and picking up penalties as a result.
Talking afterwards Harriet commented "He [A touch Imperious] felt great today. He is scopey and really a Derby specialist but he also loves a Grand Prix. We are now working and building up for the Hickstead Derby but I couldn't be happier with how today has gone".
Di Lampard, World Class Performance Manager for Showjumping, furthered "Harriet rode extremely well this afternoon and stayed incredibly cool in the jump off. It was big jumping in the Grand Prix and he couldn't have done more, he was jumping his heart out for her across what was both a big and technical course".
The Nations Cup takes place on Sunday when the team, who will be competing under the title sponsor banner of Team NAF, will all come forward at for the parade at 14:00 hrs local time. This will be the first point scoring leg of the series for the British Team competing in Europe Division 1. The Chef d'Equipe accompanying the team will be World Class Performance Manager for Showjumping, Di Lampard.
For further information on the show and full results can be found at visit www.csio.ch. Full information in respect of the FEI Nations Cup series can be found by visiting www.fei.org. FEI TV will be showing live footage from the event. To access this please visit www.feitv.org.