Harry Charles claims victory in 4* Grand Prix debut beating his Olympic Gold medallist father!
Monday 12 March 2018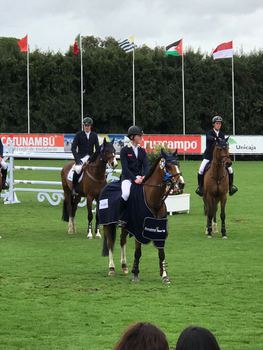 Harry Charles, from Alton in Hampshire, would have been forgiven for wondering if he was ever going to manage to step up into the realms of 4* Grand Prix competition with the odds seemingly to have been continually stacked against it.
The 18 year-old double silver medallist at last year's Junior European Championships had planned to make his debut 4* Grand Prix debut at Liverpool Horse Show just after Christmas last year. His preparations however were dashed at the last minute when a fire broke out in a nearby car park which resulted in the show being cancelled just before the Grand Prix was due to take place.
Then this weekend, with only two left to jump before him in the 4* 1.55m Grand Prix at the Sunshine Tour in Vejer de la Frontera, Spain the show was deluged with heavy rain forcing the class to abandon. The eleven riders left to go were then told they would need to wait and jump today Monday 12 March.
For any rider making their first appearance at this level they would have undoubtedly felt pressure, but for Harry this second set-back must have wondered whether his chance would ever come. This pressure would certainly have also been compounded due to the fact that his father Peter, who won Team Gold at London 2012, had already gone clear earlier and was guaranteed a place in the jump off.
With the arena drying out somewhat during the course of today, the eleven remaining riders were invited to jump and Harry really couldn't have delivered a better round. Riding Controe, an 11 year-old bay gelding with whom he has consistently been jumping clears, he delivered a foot-perfect round like an old-hand to post a clear and assure of himself a place alongside his father and five other Brits in the eleven strong jump off.
The jump off course really made use of the vast grass arena asking for strong forward riding of anyone hoping to put themselves in contention for the title. Peter had already posted a fast double clear with ABC Quantum Cruise in a time of 33.90 seconds but Harry looked totally unperturbed by this when he set off through the start line, in a forward pace whilst turning as tight as he could, without once losing his rhythm making it look almost effortless leaving all the fences untouched. Breaking the finish line in 33.02 seconds he was met with huge shouts of support from the side lines in acknowledgement of his achievement and his ultimate victory.
Great Britain certainly dominated the line up with Harry taking pole position whilst Peter took 3rd behind Robert Olivier who is renowned as being an incredibly fast rider to beat. 4th place went to Spencer Roe and Wonder Why whilst Graham Gillespie and Andretti took 5th place making it four out of the top six places going to GB.
Talking afterwards, Peter Charles commented "I'm so proud of Harry today. He rode well beyond his years, he was sensible in the jump off and he worked out where he could save time. He was cool and calculated; he nailed it with precision. He beat me today and I honestly couldn't be happier about that. My focus is on him, and my other children, all achieving their ambitions and I just want them all to be as successful as I know they can be. Harry has an enormous talent and in my opinion is a future Olympic rider and medallist for Great Britain. I'm just doing everything I can now to help him achieve that and we're supporting him all the way. He has really proved himself stepping up in this way and it's a really great day for the entire family.
For full results http://bit.ly/2GoL2i0