Saturday, June 23, 2018
Harry Charles retains Welsh Master title amid strong competition
Monday 17 April 2017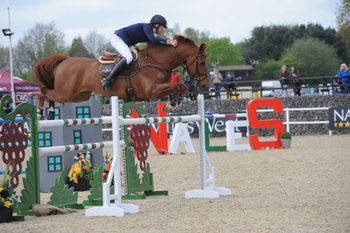 Harry Charles was crowned master of Wales as he retained his Martin Collins 1.40m grand prix title in fine style at the Welsh Masters, on this occasion riding the 8-year-old Valkiry de Zance at this very busy, popular show.
Eight of the 31 reached the jump-off over Raf Suarez's strong 12-fence track, and Harry provided the fairytale ending with his final draw on the Diamant De Semilly sired Valkiry.
"He was green last year, now with more mileage he's pretty well developed – I hope he'll be a top grand prix horse for me," said Harry, 17, who relegated Ben Bick on Zipiro into second by 2.76 seconds.
Matt Sampson was on fire this weekend and landed three championship titles. He hit the overdrive button as he galloped through the start on Billy Tortilla and maintained the pace, taking out strides and slicing across fences to land the Graham Heath gents title by 2.62 seconds.
Matt also claimed the Paul George Sporthorses 7 and 8-year-old and six-year-old titles with two chance rides, stepping up to the plate when Carron Nicol was sidelined with an aggravated injury to her back.
In the former, Matt took the top two places, winning on the eye-catching 7-year-old Singapore stallion Finnegan D, bought by Carron eighteen months ago.
"He's not done many shows through the winter, but he has the looks and the jump," said Carron.
Matt rode the 8-year-old Ebolensky, his newly-crowned Blue Chip B and C champion, into second place.
"She is so talented and consistent," he said.
And Matt also topped the Hazelden Saddlery 6-year-old with Nistria VD Winning Z, a Nonstop x Cassini I mare bought just a week ago from Karel Cox, arriving at the show from Belgium on Wednesday.
"She's proper, an out-and-out winner," said Matt, whose flying, ultimate risk gallop to the penultimate vertical paid off handsomely.
Just twent-four hours after heading the Martin Collins 1.40m grand prix qualifier, Laura Mantel on Liz Howes' home-bred Caretino Glory mare Glory B V claimed victory in the Graham Heath ladies championship.
"Stepping up to 1.45m in Vilamoura, Portugal, has made such a difference – since we've come home she's jumped four classes and won all four," said Laura.
Louis Simmons landed a one-two in the 5-year-old championship with flying, ultra-quick rounds, winning on Linda Damour Z and taking second aboard Hakuna.
"They are both quick learners," said Louis, who found the Sheraton daughter Hakuna "learned a lot" while jumping in Spain while the Lancaster-sired Linda only started competing in the New Year after having a surprise foal in 2016.
"I had no idea she was in foal when I bought her as a 3-year-old," said Louis.
Jonathan Bowman claimed the 1.25m title for the second year running with a speedy round on his old faithful Marcel des Rosiers, a 17-year-old bought as a three-year-old.
"He doesn't do many shows now and has all winter off in the field," said Johnathan, who relegated Faye Adams on Ebriolita to second by 1.40 seconds.
Chloe Winchester captured the NAF 1.20m championship by slicing corners and angling fences with Jo West's former eventer Sportsfield Our Clare, winning by 1.76 seconds.
"She's fun and competitive," said Chloe on the 9-year-old who has just returned to competition after breeding a Cevin Z foal.
Mark Edwards lifted the Showground Photography 1.30m 'on grass' title in the lush green Castle Arena on Charlotte Watt's 8-year-old Greenvale Cara.
"I can trust her to gallop and jump, she's so careful," he said.
Rebecca Mason claimed victory in the Baileys Horse Feeds 1.15m with Miserden Imprezza, a consistent 13-year-old she has owned for more than three years.
"She's my diesel pony, we've won over one hundred classes," said Stroud, Gloucestershire-based Rebecca.
Already winner of several classes here, Natalie McQuiggan, 20, produced the best round to take the Deebees Rosettes 1.05m championship on the ultra-consistent and much-loved Irish 11-year-old Kilshanny Gold.
"He backs himself off no matter how much I kick on and he's so careful," said Natalie, a solicitor's legal executive who is supported by Stage One Upholstery.
Rachael Evison – owner of Matt Sampson's second-placed 7 and 8-year-old finalist Ebolensky – won a title of her own in the Keith Price Garages 1.10m with Scylla D Ouilly.
The 11-year-old was bought as a six-year-old.
"She's so easy and straightforward and I got every dream shot as I turned in the jump-off," said Rachael.
NB: Qualifications will be updated pending grading of results.