Live streaming from the Equerry Bolesworth International Horse Show!
Wednesday 13 June 2018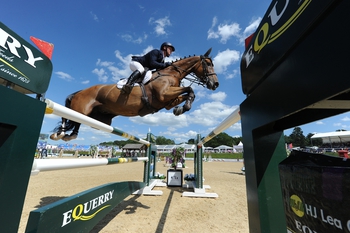 Get set for a fantastic Equerry Bolesworth International Horse Show, which will have world-class showjumping, international dressage and high-end shopping and dining!
Set in the beautiful surroundings of Bolesworth Castle near Tattenhall, Chester, the show, which runs between the 13th - 17th June, offers something for everyone and combines top-level dressage and showjumping competitions with great shopping, a host of thrilling water sports on the lake and fun family entertainment.
For those who are unable to make it to this year's show, you can catch the live action on www.britishequestriansport.tv. Competition gets underway at 8.00am today with the Five Year Old Dressage Championships.
The CSI**** international showjumping gets started on Friday 16th June and this year's show sees a seriously strong contigent come forward including major British stars and other international riders.
Getting access to the live stream is easy, simply head to www.britishequestriansport.tv. Stay tuned to our Facebook and Twitter pages too for the latest updates. The daily schedule for the show can be found by clicking here.
The Equerry Bolesworth International Horse Show runs from Wednesday, June 13th to Sunday, June 17th and tickets are available either online or on the gate. Get your tickets now at https://bolesworthinternational.com/buy-tickets-online.