Live streaming from the Winter Premier Show at Bury Farm starts tomorrow!
Wednesday 10 January 2018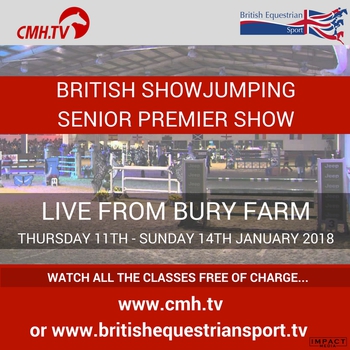 Last month, we announced an exciting new collaboration with CMH.TV and welcomed them on board as the new official live streaming partner for www.britishequestriansport.tv. The first show to be live streamed under this new partnership will be the Winter Premier Show at Bury Farm Equestrian Centre.
The live stream kicks off at 9.30am tomorrow (Thursday 11th January) with a Connolly's RED MILLS Senior Newcomers First Round and concludes with the Winter Premier Grand Prix on Sunday 14th January. The full schedule for the show can be found by clicking here.
Getting access to the live stream is easy, simply head over to www.britishequestriansport.tv. Stay tuned to our Facebook and Twitter pages too for the latest updates.