Meghan Ballantyne wins the Horseware Bronze League Semi Final at Bishop Burton College
Monday 06 August 2018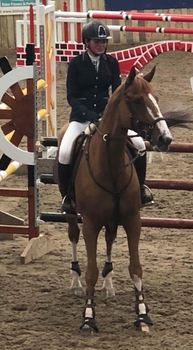 Meghan Ballantyne seized victory in the Horseware Bronze League Semi Final at Bishop Burton College to claim a coveted place in the Horse of the Year Show Final on Cookie de Reve.
Fifty-one eager hopefuls bid for the seven desired Horse of the Year Show places on offer with twenty-two initially posting clear rounds over course-designer Neil Foster's 11-fence track and an eventual twelve contended the hot, fiercely competitive jump-off.
Meghan, from Strathaven in Lanarkshire, secured victory with a super-fast round on her own Cookie de Reve, a 10-year-old Hermes De Reve X Coevers Diamond Boy mare she has ridden for the past three years, racing through the finish line to win by 2.04 seconds.
All roads lead to Horse of the Year Show for the delighted riders placed second to seventh as they also gain entry to the Horseware Bronze League Final at the Horse of the Year Show at Birmingham's NEC between the 3rd – 7th October.
Bishop Burton College – Sunday 5th August 2018
Horseware Bronze League Semi Final
1st Meghan Ballantyne & Cookie de Reve – 0/0/0 – 35.47 seconds
2nd Jodie Cairns & Gigolo – 0/0/0 – 37.51 seconds
3rd Katie Benbow & Westpoint Ferdinand – 0/0/0 – 38.19 seconds
4th Natasha Hewitt & JJS Impressive – 0/0/0 – 38.20 seconds
5th Gail Smith & Lachain Lass – 0/0/0 – 40.41 seconds
6th Angela Mills & Quids In II – 0/0/0 – 41.42 seconds
7th Olivia Davies & Spoonie – 0/0/4 – 37.37 seconds
NB: Qualifications will be updated pending official grading of results.
Horseware:
Horseware was founded in 1985 in Dundalk, Ireland, by Tom and Carol MacGuinness. After months of research and hand stitching the prototype of the now iconic Rambo Original was born, setting the standard for modern rug design. Today, Horseware is the global leader in equestrian products, with a growing range of innovative, practical and design-led products for horses, riders and pets. All of Horseware's products are designed and developed in Dundalk, Ireland. Their Rambo turnouts are still manufactured in Dundalk where they employ 125 people. 250 people are employed Horseware's two factories in China, 80 in Cambodia and 36 in the USA. Horseware believes that 'because we create, we innovate' and through innovation aim to make a tangible difference to the lives of you, your horses, and your pets. For further information, please visit www.horseware.com.