Sunday, June 17, 2018
National Senior Rider Championship
Sunday 13 August 2017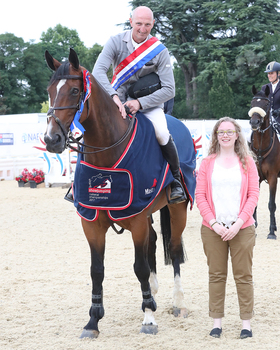 The final class of the day in Championship Arena 2 at the British Showjumping National Championships was the National Senior Rider Championship.
There were 10 through to the jump off but it was Derek Morton riding Zoe Snedker's Keep Talking who clinched first place. The pair who have been a partnership for the past six years took second place in the Championship last year.
Having produced a lovely double clear Derek commented on his round: "I felt it was a fair and good course with a lot of good combinations going forward. He jumped brilliantly and so deserved to win. He used to be a Working Hunter horse and won at HOYS three times but he has now retired from that and we now showjump together. He's 17 and I just wish I found him and jumped him as a six year old."
His second big win at the Championships, Derek Morton from Stoke-on-Trent was also crowned the National 1.25m Restricted Rider Champion yesterday riding nine year old bay mare, Double Dutch CKV so it has been a successful trip for the Midlands based rider.