Sam Ward wins the British Horse Feeds Speedi-Beet HOYS Grade C Qualifier at the South of England Show
Tuesday 12 June 2018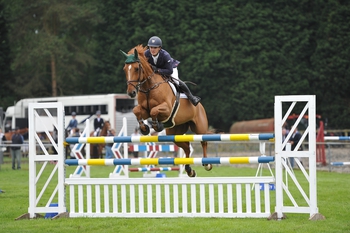 The South of England Show in Haywards Heath, West Sussex played host to a British Horse Feeds Speedi-Beet HOYS Grade C Qualifier and with a huge seventy starters, there was plenty of action for the spectators. Keeping his cool, Sam Ward rode a convincing double clear to take top spot.
With three qualification places available for the British Horse Feeds Speedi-Beet HOYS Grade C Championship Final at Horse of the Year Show, each combination came forward with the aim of securing a place at the top of the leader board with a double clear.
As twenty-four riders jumped clear in round one, it was left up to the all-important clock to decide the winner as they headed into the final jump off.
Traveling from Stowmarket in Suffolk, Sam Ward showed a great partnership with Troy III, a 9 year-old bay gelding owned by Michael Bates to secure first place. Posting a clear in the first round, this combination stormed the jump off with a lighting fast round to cross the finish line in 39.93 seconds with a double clear.
South of England Show – Thursday 7th June 2018
British Horse Feeds Speedi-Beet HOYS Grade C Qualifier
1st Sam Ward & Troy III – 0/0 – 39.93 seconds
2nd Georgia Tame & Z Seven Caretina – 0/0 – 40.37 seconds
3rd Donald Whitaker & Ciceros Girl W Z – 0/0 – 40.49 seconds
NB: Qualifications will be updated pending official grading of results.
Image Credit - Spidge Event Photography
The Horse of the Year Show will take place from the 3th – 7th October 2018 at Birmingham's NEC.
Speedi-Beet from British Horse Feeds:
British Horse Feeds, makers of Speedi-Beet, is the equine feed division of I'Anson Bros Limited and is based in Masham, North Yorkshire. British Horse Feeds is best known for its flagship product 'Speedi-Beet' which, thanks to the unique patented process has revolutionized the feeding of beet pulp. Speedi-Beet has improved nutrient availability and soaks in just 10 minutes, compared to 24 hours for sugar beet pellets. It's a great way to add quality fibre to your horse's diet for slow release energy. Fibre-Beet, a formulated blend containing Speedi-Beet and alfalfa has the benefits of Speedi-Beet with extra conditioning. For more information contact British Horse Feeds on 01765 680300 or visit our website on www.britishhorsefeeds.com.