Scott Brash & Hello Jefferson 2nd in Grand Prix of Ireland
Sunday 11 August 2019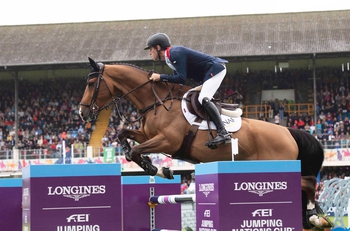 Dublin Horse Show drew to a close today with GB's Scott Brash taking 2nd place in the Grand Prix of Ireland on the Lady Kirkham and Lady Harris owned 10 year-old gelding Hello Jefferson. This followed their Nations Cup team victory on Friday in which Jefferson also posted two faultless rounds to mirror their ones of this afternoon.
This afternoon's Grand Prix had seen forty combinations come forward with only seven of them achieving a first round clear to qualify for the jump off, two of which came in the form of British riders Scott Brash and Ben Maher. It was home rider Shane Breen (IRL), based in West Sussex, who drew the capacity crowds to their feet by posting an incredibly fast jump-off clear to claim the win with his time of 34.91 seconds on the 11 year-old Ipswich van de Wolfsakker (Carembar de muze x Quick Star). The rapturous crescendo of noise erupting from the spectators surrounding the historic grass arena was quite incredible as they showed their appreciation of having a home win.
Breaking the timing line clear in 35.39 seconds, just a fraction of a second slower than Shane, saw Scott slot into 2nd place with the talented Hello Jefferson (Cooper van Heffinck x Irco Mena) with Lorenzo de Luca (ITA) taking 3rd place by providing the only other second round clear in a time of 38.17 seconds aboard Dinky Toy van Kranenburg (Ugano sitte x Kimball).
A blazing round by Susan Patrick (IRE) on Fellow Castlefield (Je T'Aime Flamenco x Twister) saw them put in the fastest time in the jump off when they clocked 33.23 seconds, however their haste saw them pick up 4 penalties along the way and finish in 4th place. Fellow Irish rider Richard Howley took 5th with his 4 penalties in 33.29 seconds on Chinook (Tygo x Wellington).
For Ben and the 16 year-old Tic Tac (Clinton x Darco), that he owns jointly with Jane Forbes Clark, it was a 6th place tie with Steve Guerdat (SUI) on Venard de Cerisy (Open up Semily x Djalisco du Guet) when they both stopped the clock to the same hundredth of a second in a time of 33.33 seconds.
For full results visit https://bit.ly/2Z5uabW