Megan Li finishes 2nd in Lamprechtshausen Pony Grand Prix
Sunday 19 May 2019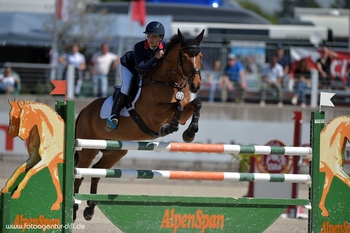 It was a another solid performance from 14 year-old Megan Li from Chalfont St Giles in Lamprechtshausen, Austria earlier today when she took 2nd place in the Pony Grand Prix .

Riding her father Alex Li's 16 year-old bay gelding Harry, Megan posted a foot-perfect double clear to take 2nd place behind Thea Ganehed (SWE) on Dawn Godess. From the thirty two starters it was twelve that made it through to the jump off with only four of those jumping clear for the second time.
Megan's time of 42.18 seconds wasn't quite fast enough to catch Thea's of 39.30 but was enough to relegate Fleur Holleman (NED) and Bora Bora into 3rd place with their clear of 47.31 seconds. 4th place went to Bo Dictus (NED) and Kelvin whilst 5th place went to fellow British team mate Holly Cooper with Valentino Supreme who posted the fastest of the 4 fault riders to secure her place behind the four who finished on zero penalties.
This followed their Pony Nations Cup team victory of yesterday, where riding under sponsor banner of Team LeMieux, both Megan and Holly were two of the team of four that put GB in pole position on the podium.
RESULTS
1. Thea Ganehead (SWE) & Dawn Godess (0/0 39.30)
2. Megan Li & Harry (GBR) (0/0 42.18)
3. Fleur Hollemann (NED) & Bora Bora (0/0 47.31)
4. Bo Dictus & Kelvin (0/0 47.71)
5. Holly Cooper (GBR) & Valentino Supreme (0/4 41.28)
For further information on the show and full results visit www.horsedeluxe.at.
British Showjumping would like to thank LeMieux, title sponsors of the Pony teams.
LeMieux is one of the fastest growing equestrian brands in Europe. Their modern jumping pads have been developed with Scott Brash and are used by British Showjumping's Nations Cup Teams. The LeMieux product offering now includes a full range of breeches, show shirts and casual wear to add to the extensive collection of boots, bandages, fly hoods, headcollars, rugs and competition equipment. All widely available through good retailers or online at www.horsehealth.co.uk.
The GBR showjumping teams are supported by the British Equestrian Federation's World Class Programme, funded by UK Sport through the National Lottery. The Programme focuses on identifying talent, developing potential and maximising medal-winning performances on the world stage.