Adam Taylor scores a one-two in the Nupafeed Supplements Senior Discovery Second Round at Willow Banks Equestrian Centre
Tuesday 07 May 2019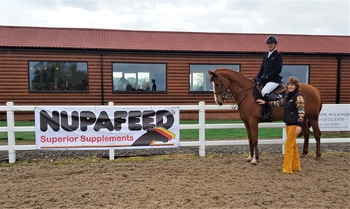 Adam Taylor topped the leader board to take the top two places in the first of this season's Nupafeed Supplements Senior Discovery Second Rounds at Willow Banks Equestrian Centre in Lincolnshire on Sunday.
Fifty-three combinations started out over course designer Nigel Jess' twelve fence track and each rider was hoping to secure a place in the Nupafeed Supplements Senior Discovery Championship Final, which will be held during the British Showjumping National Championships in August.
The initial starting field was whittled down as eighteen competitors produced a double clear for a place in the final jump off. As twelve talented partnerships were able to secure a treble clear it was left up to the all-important clock to decide the winner.
Adam Taylor from Newark, Nottinghamshire proved to be on top form taking first place on his own Arko III sired 7 year-old Annabel Z, who crossed the finish line in 33.43 seconds. Adam also piloted Doverla P, an 11 year-old Dutch-bred mare into second place after crossing the line in 33.79 seconds.
With another ten combinations also achieving a treble clear, a total of twelve combinations now go forward to the Nupafeed Supplements Senior Discovery Championship Final.
Willow Banks Equestrian Centre – Sunday 5th May 2019
Nupafeed Supplements Senior Discovery Second Round
1st Adam Taylor & Annabel Z – 0/0/0 – 33.43 seconds
2nd Adam Taylor & Doverla P – 0/0/0 – 33.79 seconds
3rd Kate Johnston & Jersey II– 0/0/0 – 34.40 seconds
4th Michael Potter & Esto De Viscourt – 0/0/0 –34.71 seconds
5th Sophie Strawson & Okkato – 0/0/0 – 35.24 seconds
6th Devon Grimes & Miss Silver Dollar – 0/0/0 – 35.37 seconds
7th Rachel Walker & Indy X– 0/0/0 – 35.78 seconds
8th Louise Redfearn & Redagio I – 0/0/0 – 36.56 seconds
9th Lucy Tubb & Forked Lightning – 0/0/0 – 36.75 seconds
10th Michael Potter & My Lady LH – 0/0/0 – 37.20 seconds
11th Rachel Walker & Iniki V – 0/0/0 – 37.49 seconds
12th Angela Mills & Salto De Altura – 0/0/0 – 38.16 seconds
NB: Qualifications will be updated pending official grading of results.
Image: Adam Taylor pictured here on Doverla P with Sheila Noble of Nupafeed (Credit: British Showjumping)
The British Showjumping National Championships 2019 will take place during the 6th – 11th August at the National Agricultural and Exhibition Centre (NAEC), Stoneleigh Park, Warwickshire.
Nupafeed Supplements
Imported from Germany, Nupafeed supplements combine advanced scientific research with the highest quality ingredients to make their products truly unique.
The Nupafeed range includes: the highly acclaimed MAH® Calmer, Flex GLM (Green Lipped Mussel) joint supplement and Staying Power to aid energy, strength and stamina.
Used by top professionals, including John Whitaker and Ben Maher, Nupafeed products are permitted for competition and are available by mail order.
Nupafeed aims are to ensure an unbeatable quality of product, supplied with friendly and honest advice. The team have experience assisting customers who represent all levels of horse ownership. For more information, visit www.nupafeed.co.uk.