Claudia Moore 3rd in Wierden Pony Grand Prix
Saturday 01 June 2019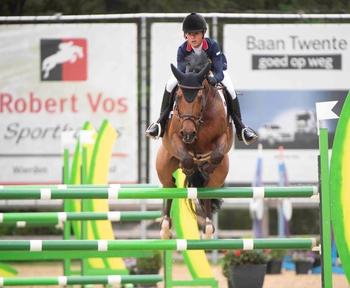 Claudia Moore, aged 14 from Brentwood in Essex, finished 3rd in the Wierden Grand Prix this afternoon with the 15 year-old bay gelding Elando van de Roshoeve owned by her mother Katrina Moore.
Earlier at the show in The Netherlands, Claudia had jumped double clear in the Nations Cup competition to assist deliver a win for the team and she posted the same result today by returning two faultless rounds to claim a high place in the line-up.
The class had been a strong one with forty six starters coming forward and thirteen of them jumping clear in the first round to qualify for the jump-off. With speed, as well as jumping clear, therefore being imperative for anyone wanting to be in the running for the title it was some incredibly fast forward paced rounds that some of the young riders put in. Eight of the field managed to post another clear and it was just a fraction over two seconds that ended up separating the top five placings such was the competitive riding that took place.
It was Johannes Beeken (GER) that took that title in the end with his time of 30.65 seconds on the stallion Mentos Junior 2 with Mathilda Bohin (SWE) taking 2nd on Springhill Boomerang. Claudia, who finished clear in a time of 31.79 seconds was fast enough to secure 3rd place and push Ryan Sweetnam (IRE) into 4th with his time of 32.52 seconds. Fellow British rider Red Morgan took 5th with a time of 33.75 on Bodyssee des Avelines owned by Didy Morgan.
For further information on the show and full results visit www.dutchyoungsterfestival.com.