Notts/Lincs Training at Willow Banks - Open to all!
Tuesday 07 August 2018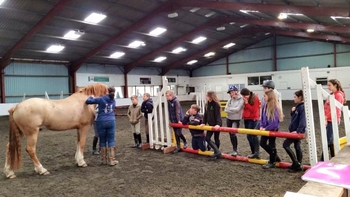 Notts/Lincs Academy Training at Willow Banks EC - 30 August
Open to juniors and seniors, horses and ponies.
Flat/pole work with UKCC level 2 coach Ellie Stevenson
Jumping sessions with UKCC Level 3 coach Joanne Burns-Firth
Talk/demonstration with Neue Schule
£35/members, £40/non-members
Please contact Joanne for more information and to book on: 07980 137416 or jburnsfirth@gmail.com
Please be aware that fees will be added to your British Showjumping membership accounts and the British Showjumping cancellation policy will apply.
Please note that for all British Showjumping training, photos may be taken and shared on face book and the regional webpages. If you do not want your child to be included in these photos please let the Coach know on the day and please let Ruth McKiernan (East and East Midlands Development Officer- ruth.mckiernan@britishshowjumping.co.uk) know in advance of the training.