Turbocharged Tabitha takes the title
Wednesday 24 July 2019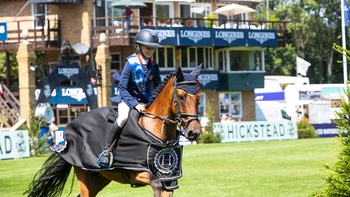 Tabitha Kyle might be just 12 years old, but she's already making her name as one of Britain's most prolific showjumpers. The Leicestershire-based rider has an immaculate equestrian pedigree, being the daughter of Irish Olympic eventer Mark Kyle and British event rider Tanya Kyle.
But a love for the fast-paced thrills of the showjumping arena eclipsed any desire to follow in her parents' eventing footsteps, and since then, she's notched up an impressive string of successes.
Tabitha has gained considerable media attention for her partnership with 17.2hh Grennanstown Sarco Luxhill, with whom she earned a European team bronze medal – and individual fifth place - in her Team GB debut earlier this month. But her mounts for Hickstead's Longines Royal International Horse Show, though notably smaller, are just as successful.
Kyle began her week in flying form, taking victory in the Hooper Family Winter 138cm Championship with the eight-year-old Playboy van de Zoetewi. Known at home as 'Bugsy', the pony was bought from Holland sight unseen four years ago, and Kyle has taken on the job of teaching him about the sport.
"We've been training him for ages, and he's gradually built up to going really well," says Kyle.
But despite the diminutive jockey's considerable experience, and her pony's evident talent, nothing is ever certain in Hickstead's iconic Longines International Arena. "Last year I came second on the same pony, and this year I really wanted to win it. He came back to me for the double down the hill really well in the jump-off, and he did a really good gallop to the last," says Tabitha.
Kyle has a busy week ahead of her: she rides five horses and ponies across an array of classes at the show. But with all her experience, does the young rider ever suffer from competition nerves when contesting major competitions like this one?
"I just try to think of it as just another show, and that usually works," she says. "But as soon as I finish I can be really happy with it and think that that was great for this show."
The Longines Royal International Horse Show takes place at Hickstead in West Sussex (23-28 July), with international showjumping being held alongside championship showing classes and national jumping competitions. The feature class of the show is the Longines FEI Jumping Nations Cup™ of Great Britain on Friday 26 July, in which the British showjumping team will be competing for honours.
For full results and further information visit www.hickstead.co.uk
Photographer credit: Emily Gailey