A rocking round for Jessica Howard and Rocky Robin I in the National Pony 1.15m Members Cup Final
Tuesday 07 August 2018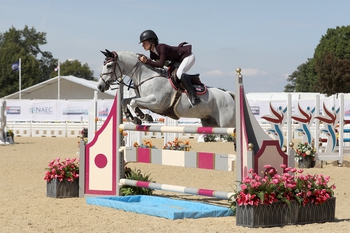 Taking the spoils in the National Pony 1.15m Members Cup Final was Jessica Howard with Rocky Robin I. The 11 year old grey gelding was one of 16 clears out of 53 starters. Jessica was first to go in the jump off and set a blistering fast round in 42.67 seconds. Speaking of her win she commented: "My plan was to go fast to put pressure on the others and force them to get a fault" – it worked because there was only four clears in the jump off. "We've had him for three years and produced him from his very first show. He is the sort of pony who would kill himself for you in the ring and he is the one I always rely on for the big classes."
Having travelled to the show from Bedfordshire, the Britsh Showjumping National Championships is proving to be a lucky show for the pair who were fourth in the Blue Chip Pony Newcomers Masters at BSNC 2017 and won the Pony Discovery Championship Final at BSNC 2016. They train at Keysoe Equestrian Centre with Mark Mcgowan and have already qualified for HOYS in the Pony Foxhunter.
"My mum is mad about horses; she is the one who got me into it, in fact I think she's even crazier about them than me. If I give up tomorrow, she'd get someone else to ride the pony. But I don't intend to give up anytime soon!"
It is not only competitors who are guaranteed a fabulous day out, the British Showjumping National Championships also offers a great family day of exciting competition, hospitality and afternoon tea offerings and a retail shopping village. Entry for spectators wishing to take advantage of this fantastic show is free and parking is only £5 per car. For more information please go to http://www.bsnationalchampionships.com/ or call 02476 858205.
Image Credit: 1st Class Images