Ben Maher & Explosion W finish 2nd in LGCT Doha Grand Prix by narrow margin
Sunday 03 March 2019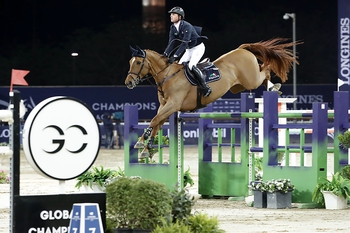 It was a narrow defeat yesterday for the title of the first Longines Global Champions Tour Grand Prix of 2019 for Ben Maher and Explosion W, owned by Poden Farms.
The Qatari capital played host to the opening leg of the season and it was a blitersing jump off under floodlights around Uliano Vezzani's galloping track at the spectacular Al Shaqab venue.
Julien Epaillard (FRA) and Usual Suspect D'Auge, were the first into the five-strong jump off and took the win after Ben and Explosion W, who were last to come forward, just fell short of catching them.
The first round saw thirty-five combinations come forward with many struggling to master the challenges of the substantial track. It was Julien who lit up the arena with the first clear which was quickly followed by Alberto Zorzi (ITA) and Contanga. Frank Schuttert (NED) and Chianti's Champion produced the next clear before Nicola Philippaerts (BEL) and the powerful H&M Chilli Willi joined them. Ben completed the line up with a truly masterful clear on the 10 year-old explosion.
The jump off certainly didn't disappoint the crowds packing the grandstand with Julien setting the pace taking extremely tight turns to cross the finish line in 40.11 seconds.
Alberto Zorzi and Contanga had an unexpected mistake at the vertical and ended up in fourth place. Frank Schuttert picked up four faults at the Gate after coming in too fast. With two riders left to go it was Nicola next, however despite being quick off the mark and jumping clear they were behind the time finishing in 43.43 seconds.
With all eyes on Ben, there was a high expectation that he would triumph having dominated most of the season last year before taking the overall title. Tension was high around the arena as they set off delivering an absolutely foot-perfect round. Looking like he could do it, the crowds were on the edge of the seats and you could hear the groan go from everyone when the clock stopped at 40.55 seconds, just a fraction of a second slower than Julien.
Over in the warm up Epaillard cheered with joy as his win was confirmed. In the prize-giving ceremony His Excellency Sheikh Joaan bin Hamad bin Khalifa Al Thani congratulated the winner and second and third place riders as crowds took countless photos as the LGCT of Doha came to a close.
Talking after the prize giving Ben said of his 2nd place finish "I am very happy - Explosion has been incredible all weekend, he hasn't jumped since Prague. I just misjudged it today and we just were not good enough to beat Julien, but that's sports and I am just excited for the season. I didn't take too much of a risk, I would have taken second and I'm happy to be on the podium."
For further details and full results visit www.gcglobalchampions.com
Results:
1st Julien Epaillard (FRA) & Usual Suspect d'Auge – 0/0 (40.11)
2nd Ben Maher (GBR) & Explosion W – 0/0 (40.55)
3rd Nicola Phillippaerts (BEL) & H&M Chilli Willi – 0/0 (43.43)
4th Frank Schuttert (NED) & Chianti's Champion – 0/4 (40.54)
5th Alberto Zorzi (ITA) & Contanga – 0/4 (43.51)