Claudia Moore crowned The Stable Company 138cm Champion
Sunday 07 October 2018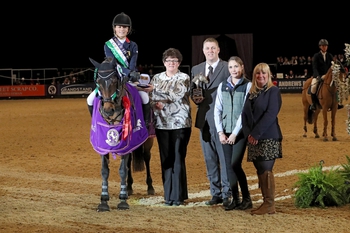 Wonder pony Sonas Barney completed a remarkable hat-trick at Horse of the Year Show on Sunday as Claudia Moore claimed victory in The Stable Company 138cm Championship. Sonas Barney, a 21-year-old veteran of the pony competition scene, has now won the prestigious competition three times with three different riders - Claudia, Madison Heath last year and Nicole Lockhead-Anderson in 2015. He is also the first pony to claim successive victories in the class.
It continued a memorable year for 13-year-old Claudia, from Brentwood in Essex, who helped Great Britain to Pony European Championship team gold this summer and also won individual bronze. Her time of 30.18 seconds secured victory by almost a second from Dorset rider Luli Loveridge, on 22-year-old Arrow Head Quiver, with Claudia also taking third place, riding Tullineaskey Fear Deas. Fourth spot went to Elissa Herrmann and Fountain Ranger.
"It's incredible to win, especially because he is 21, which is quite old to be doing what he is doing. He just loves it so much," Claudia said. "It is the first time I have won here, and I have such lovely owners, which makes this all possible. The jump-off was close; Luli Loveridge did an amazing job, but today Sonas Barney just did incredibly.
"It means so much to me to win here. I have never won here before. I have come second, I have come third but I had never actually got that top spot."
Link to audio interview with Claudia Moore.
The Stable Company:
The Stable Company has crafted a reputation for the design and construction of world-class equestrian buildings. The expert team has experience in everything from traditional stable design, through to contemporary American-style barns. With unbeatable timber knowledge and design expertise, buildings from The Stable Company combine practicality with unrivalled aesthetic impact. So, whether you need small stables for personal use, or a commercial scheme, The Stable Company can help and will work alongside you to maximise your space and exceed your expectations. For more information, visit www.thestablecompany.com.
Photo Credit: 1st Class Images