Jonathon Egmore dominates in the Nupafeed Supplements Senior Discovery Second Round hosted by the Norfolk Showjumping Club
Thursday 30 May 2019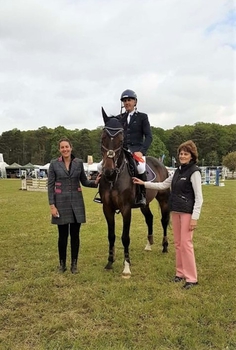 Jonathon Egmore from Diss, Norfolk dominated in the Nupafeed Supplements Senior Discovery Second Round hosted by the Norfolk Showjumping Club at Houghton International Horse Trials in Norfolk on Sunday as he claimed the top two places.
Sunday's course designer Stephen Dye set a challenging test as only eight of the initials starters made it through to the final jump-off and five of those gained the treble clear that all riders set out to achieve to ensure they gained a qualifying ticket into the Nupafeed Supplements Senior Discovery Championship Final, which will be held during the British Showjumping National Championships in August.
Jonathon edged ahead with Passilano, a 5 year-old German bred by Cassini I, they crossed the finish line in 52.06 seconds whilst his second ride Jupiter XXI, also a 5 year-old by Numero Uno, produced a time of 52.69 seconds. Both of Jonathon's rides are owned by Nicola Withey.
Freya Yeomans and Sara Yeoman's Cougar Maid took third place in a time of 54.64 seconds beating Laura Wakefield and her own Helendro into fourth with a time of 55.15 seconds. The fifth treble clear was earnt by Laura Erith and Stonehavens Orestus, they finished in 55.78 seconds.
Norfolk Showjumping Club – Sunday 26th May 2019
Nupafeed Supplements Senior Discovery Second Round
1st Jonathon Egmore & Passilano – 0/0/0 – 52.06 seconds
2nd Jonathon Egmore & Jupiter XXI – 0/0/0 – 52.69 seconds
3rd Freya Yeomans & Cougar Maid – 0/0/0 – 54.64 seconds
4th Laura Wakefield & Helendro – 0/0/0 – 55.15 seconds
5th Laura Erith & Stonehavens Orestus – 0/0/0 – 55.78 seconds
NB: Qualifications will be updated pending official grading of results.
Image: Jonathon Egmore and Passilano with Lauren Raynor (left) Sheila Noble (right)
The British Showjumping National Championships 2019 will take place during the 6th – 11th August at the National Agricultural and Exhibition Centre (NAEC), Stoneleigh Park, Warwickshire.
ENDS
Notes to Editors:
For further media enquiries, please contact the British Showjumping Press Office on 02476 698806 or press@britishshowjumping.co.uk.
Nupafeed Supplements:
Imported from Germany, Nupafeed supplements combine advanced scientific research with the highest quality ingredients to make their products truly unique. The Nupafeed range includes: the highly acclaimed MAH® Calmer, Flex GLM (Green Lipped Mussel) joint supplement and Staying Power to aid energy, strength and stamina. Used by top professionals, including John Whitaker and Ben Maher, Nupafeed products are permitted for competition and are available by mail order. Nupafeed aims are to ensure an unbeatable quality of product, supplied with friendly and honest advice. The team have experience assisting customers who represent all levels of horse ownership. For more information, visit www.nupafeed.co.uk.