Lila Davis and Martha's Darling take the Pony Bronze League 128cm Title
Thursday 08 August 2019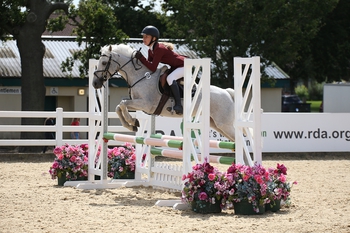 Lila Davis and Martha's Darling put in a stylish performance to take the Pony Bronze League 128cm Championship against 22 other competitors that made it through to the jump off. The best was saved until last where the combination flew past the finish line in a fast 31.69 seconds. Lila explained her thought process behind her win: "My sister was winding me up before I went in the ring, so all I wanted to do was beat her."
Lila has enjoyed great success in this class; which is made even more special by the fact that Martha's Darling was Lyla's first pony, after only learning to ride two years ago.
Norfolk based Lila was also the highest placed Pony Club member in the class, and was also awarded the Pony Club sash on top of the Championship title.
After taking the title in the only class the combination came to the National Championships for, Martha's Darling will enjoy some time away from the area, and exchange it for the beach, before handing over the champion pony to Lila's younger sister May.
Liala Ramaci and Arrogan Emily TR took second place, with Hollie Gerken and Dimples Dilema taking third place.
The Bronze and Silver Pony/Rider Combination League was introduced by British Showjumping in 2014 and allows all pony riders to be able to track their progress on a regional and national league table. There are three leagues; Bronze, Silver and Gold and they are split into three height categories of 128cm, 138cm and 148cm.
NOTE: Please credit all images to: 1st Class Images