Talia Da'Prato wins the Pony Restricted Rider 1.10m Championship Final
Thursday 09 August 2018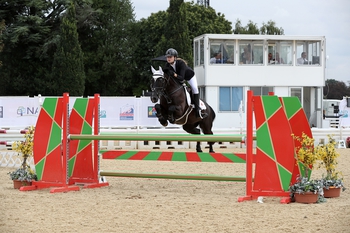 It was Hertfordshire based showjumper, Talia Da'Prato riding Right Proper Charlie who took the spoils in the Pony Restricted Rider 1.10m Championship Final on Day 3 of the British Showjumping National Championships here at NAEC Stoneleigh. With just five riders through to the jump off, riders had to raise their game as they entered Championship Arena 1. Luckily for Talia, Charlie excels in both speed and accuracy so she flew round in record time leaving all the jumps standing. "I was confident going in to the jump off as he is really nimble so we can make good time as well as picking up good speed. We've been competing together for four years now so we know each other inside out," explains Talia.
With Talia now 16 years old, she will be moving onto horses next season so this has been a perfect end to her pony career with 18 year old Charlie. "This has been our first time at the British Showjumping National Championships but we've really enjoyed it. I couldn't be happier!"
It is not only competitors who are guaranteed a fabulous day out, the British Showjumping National Championships also offers a great family day of exciting competition, hospitality and afternoon tea offerings and a retail shopping village. Entry for spectators wishing to take advantage of this fantastic show is free and parking is only £5 per car. For more information please go to http://www.bsnationalchampionships.com/ or call 02476 858205.
Image Credit: 1st Class Images