Tickets still on sale for Horse of the Year Show's Anniversary Show
Tuesday 18 September 2018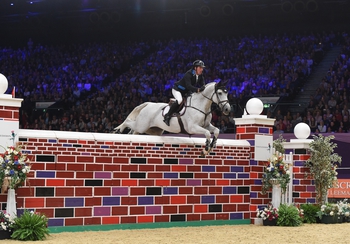 Not long to go until Horse of the Year Show 2018; the final of the national showjumping season accompanied by three days of International showjumping. With classes such as; the Five Fence Challenge, the Thistledown Puissance and the Grand Prix Leading Show Jumper of the Year, there is a great line up of competition. The British riders confirmed so far include; Michael Whitaker, Robert Whitaker, John Whitaker, Guy Williams, Julie Andrews, Jessica Dimmock, Joe Clayton, Paul Barker, Mennell Watson, Helen Tredwell and Robert Murphy.
To mark the show's 70th Anniversary this year, HOYS will bring more entertainment displays into the timetable than ever before and will also be celebrating the Gala Evening Finale on the Sunday evening in style. The Household Cavalry Mounted Regiment Musical Ride brings a great sense of patriotism to the Show whilst the Musical Drive of the Heavy Horses showcases our heritage as they harrowed the arena in between classes in the early years. The Equestrian Vaulting Display "Show Time" brings something a little different to the fore and the mesmerising bridle-less dressage display from Alizée Froment "L'Esprit Equestre" is sure to impress as she showcases her incredible talent for the first time in front of a UK crowd.
Whether you buy a ticket for the daytime performance or the evening performance, every single ticket provides full day access to the immense HOYS Retail Village with over 250 stands, so you can shop 'til you drop and be surrounded by likeminded equestrian enthusiasts. Also in the retail village is the Meet the Horses Zone, Meet the Societies Zone and the Live Zone, where you can watch and take part in talks and demonstrations from leading industry professionals and meet some of the riders themselves.
So to get your showjumping fix be sure to purchase your tickets to #HOYS2018 and join in the 70th Anniversary celebrations. Call the Box Office on 0844 581 8282 or visit http://hoys.co.uk/tickets/