Amanda Derbyshire wins the Overall Leading Lady Rider at WEF
Tuesday 02 April 2019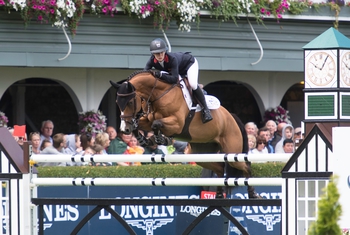 Amanda Derbyshire, originally from Leyland in Lancashire and now based with the Gochman Family in Florida, has been awarded the overall leading lady rider at the 2019 Winter Equestrian Festival (WEF) in Florida.
The Winter Equestrian Festival was held at Palm Beach International Equestrian Centre in Wellington, Florida between the 9th January – 31st March and saw more than 6,000 horses from forty-two countries competing for over half a billion dollars.
The Overall Martha Jolicouer Leading Lady Rider was awarded in memory of Dale Lawler and as the winner, Amanda, who fought off challenges from the likes of Lauren Hough, Tiffany Foster and previous award winner Beezie Madden, was given a custom-built jump of her choice, a bottle of champagne, a bouquet of flowers, and gift certificate for a shopping spree at Hunt, Ltd.
Amanda was awarded the leading lady title in weeks ten and eleven and sealed the victory of the overall leading lady rider after a consistently successful twelve-week long show with numerous wins including the $134,000 CSI3* Horseware Ireland Grand Prix on the Gochman Sport Horse LLC's Roulette BH, a 10 year-old Irish bred gelding by Moschino and the $72,000 CSI4* Equinimity WEF Challenge Cup round 11 with her World Equestrian Games partner Luibanta BH, an 11 year-old Irish bred mare by Luidam also owned by Gochman Sport Horse LLC.
For more information and results from the show go to: https://pbiec.coth.com/