Annabel Shields wins the Connolly's RED MILLS Senior Newcomers Second Round at the Scottish Summer Extravaganza
Thursday 19 July 2018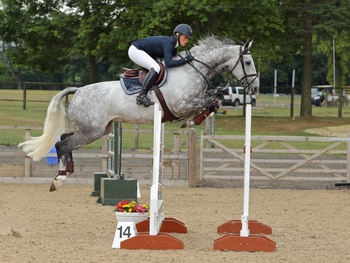 Annabel Shields made an early start from Durham to the Scottish Summer Extravaganza worthwhile, landing a coveted Horse of the Year Show ticket with victory in the Connolly's RED MILLS Senior Newcomers Second Round on Creevagh Carisma.
An initial 55 starters contended a 12-fence track built by course-designer Raf Suarez with the 17 first round clears further reduced to seven for a high-octane jump-off. It was all about the clock as riders chased the two Horse of the Year Show places on offer, but an on-form Annabel forged ahead.
Taking every conceivable shortcut, Annabel raced to the winner's spot with 0.66 seconds to spare on Victoria Gibson's Creevagh Carisma. The eight-year-old Camiro De Haar Z mare has been produced by owner Victoria for two years until Annabel took over the reins in May.
Angel Tough is also Horse of the Year Show bound after taking second place on the Luidam x Hor La Loi II six-year-old Dam Dam.
Six treble clears were produced with those placed third to sixth gaining a place in the Connolly's RED MILLS Senior Newcomers Masters at the British Showjumping National Championships and another chance to qualify for the Horse of the Year Show.
Scottish Summer Extravaganza – Wednesday 18th July 2018
Connolly's RED MILLS Senior Newcomers Second Round
1st Annabel Shields & Creevagh Carisma – 0/0/0 - 43.21 seconds
2nd Angel Tough & Dam Dam – 0/0/0 - 43.87 seconds
3rd Rosie Pindar & Hanleen Beatrice – 0/0/0 - 44.66 seconds
4th Charlotte Arnold & Leestone Blue Voltet – 0/0/0 - 45.06 seconds
5th Laura Robinson & Bagghera – 0/0/0 - 47.56 seconds
6th Geoff Billington & Corvette Van Overis Z – 0/0/0 - 50.42 seconds
NB: Qualifications will be updated pending grading of results.
The Horse of the Year Show 2018 will take place from the 3rd – 7th October at Birmingham's NEC. The British Showjumping National Championships 2018 will take place during the 7th – 12th August at the National Agricultural and Exhibition Centre (NAEC), Stoneleigh Park, Warwickshire.
Image Credit: Sinclair Photography
Connolly's RED MILLS:
Connolly's RED MILLS is an Irish family owned company, providing precision nutrition for a wide range of equine needs. The company was established in 1908 in Co. Kilkenny, and today, exports to over 50 countries worldwide. For people who value their horses as high performers, Connolly's RED MILLS has been the automatic choice for over 100 years. We know just what it takes to get you the best results in terms of equine nutrition, health, well-being and performance. Some of the most successful high-performance sport horses in the world have been fed on Connolly's RED MILLS and we are delighted to launch our new dedicated Sport Horse range of feeds. The quality products that produce these results are supported by nutritional research along with some of the most technologically advanced innovation and manufacturing processes in the world. For further information, please visit www.redmills.co.uk/Horses/Home.