Harry Wood wins the Equithème Leading Pony Showjumper of the Year Qualifier at the Welsh Home Pony
Wednesday 01 August 2018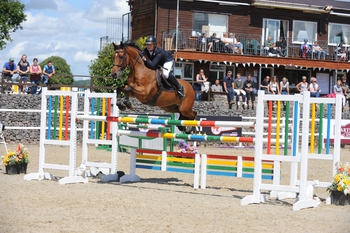 Harry Wood claimed the Equithème Leading Pony Showjumper of the Year Qualifier at the Welsh Home Pony at the David Broome Event Centre in Monmouthshire with the sole double clear on Carnhill Luna.
A large field of 50 tackled course-designer Raf Suarez's technical 12-fence track but only three posted clear rounds to fill the three HOYS qualifying places on offer.
With the HOYS places already decided, Tahnia Jordan-Jones on her HOYS 2017 Newcomers and Foxhunter Champion Jumper, a 12-year-old owned by her mother Julie Jordan, and Jake Myers with Joanna Myers' 17-year-old mare Razorlite II opted to withdraw from the jump-off and shared second place.
But Harry, from Stockton-On-Tees, Cleveland, wanted to jump again and produced a copybook clear on Rosalind Platt's 12-year-old Irish-bred gelding Carnhill Luna to take victory.
"I wanted to get more league points and gain experience over a bigger track," explained Harry. "I can't thank the Platt family enough for letting me ride their ponies."
The riders and ponies that finished in first to fourth took home the chance to compete in the Equithème National 148cm Championship at the British Showjumping National Championships.
Welsh Home Pony – Tuesday 31st July 2018
Equithème Leading Pony Showjumper of the Year
1st Harry Wood & Carnhill Luna – 0/0 – 46.78 seconds
= 2nd Tahnia Jordan-Jones & Jumper – 0/WD
= 2nd Jake Myers & Razorlite II – 0/WD
4th Ella Quigley & Clemens 43 – 4 - 75.27 seconds
NB: Qualifications will be updated pending grading of results.
The Horse of the Year Show 2018 will take place from the 3rd – 7th October at Birmingham's NEC. The British Showjumping National Championships 2018 will take place during the 7th – 12th August at the National Agricultural and Exhibition Centre (NAEC), Stoneleigh Park, Warwickshire.
Equithème:
Established in 1985, Equithème has gone from strength to strength in creating beautiful collections for both horse and rider. Designing and developing matching collections using fun and vibrant colours, the stylish ranges make the brand stand out in the equestrian market around the world, by using high-tech quality fabrics and a focused attention to detail with a French touch. This established French brand is famous for its forward-thinking style and one of the most iconic collections across Europe. Horse wear and apparel by Equithème is always designed around what riders, horse owners and horses themselves need out of their clothing or equipment. For more information please visit http://www.equitheme.co.uk.