Rachel Proudley bags The Stable Company HOYS 138cm Qualifier win at the Welsh Home Pony
Wednesday 01 August 2018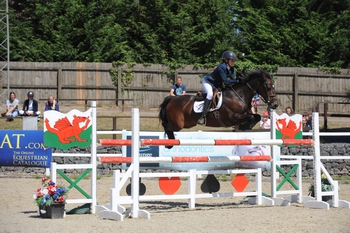 Rachel Proudley stormed into victory with Buttons Two in The Stable Company HOYS 138cm Qualifier at the Welsh Home Pony at the David Broome Event Centre.
Forty-six competitors initially contended this final qualifier of the 2018 season, all chasing the three coveted HOYS tickets on offer. There were some hard-luck stories on the way, but course-designer Jamie Perryman's 12-fence track reduced them down to fourteen for the second round and an eventual five tackled the jump-off.
Rachel, from Whitby, North Yorkshire. didn't hold back in second draw and set a sizzling and unbeatable target with Paul Proudley's ever-eager 14-year-old mare Buttons Two to win by 2.21 seconds.
Elissa Hermann chased hard but had to settle for second and third with her mother Edwina Herrmann's 11-year-old gelding Never Last Spartacus and the 23-year-old gelding Fountain Ranger.
Welsh Home Pony – Tuesday 31st July 2018
The Stable Company HOYS 138cm Qualifier
1st Rachel Proudley & Buttons Two – 0/0/0 - 39.69 seconds
2nd Elissa Herrmann & Never Last Spartacus – 0/0/0 - 41.90 seconds
3rd Elissa Herrmann & Fountain Ranger – 0/0/0 - 44.70 seconds
NB: Qualifications will be updated pending grading of results.
The Horse of the Year Show 2018 will take place from the 3rd – 7th October at Birmingham's NEC.
The Stable Company:
The Stable Company has crafted a reputation for the design and construction of world-class equestrian buildings. The expert team has experience in everything from traditional stable design, through to contemporary American-style barns. With unbeatable timber knowledge and design expertise, buildings from The Stable Company combine practicality with unrivalled aesthetic impact. So, whether you need small stables for personal use, or a commercial scheme, The Stable Company can help and will work alongside you to maximise your space and exceed your expectations. For more information, visit www.thestablecompany.com.