Welcome return win for Whitaker
Saturday 27 July 2019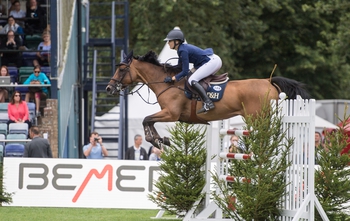 Ellen Whitaker made a welcome return to winning in the Longines International Arena when she claimed the top spot in the BEMER Speed Classic.
Her time of 59.80sec put her clear of a stellar line-up of German stars, including runner-up Marcus Ehning, David Will in third and Michael Jung in fourth.
Whitaker's winning ride was Diola, who is the daughter of Locarno – the horse who took Ellen to second place in her first ever Hickstead Derby when she was just 18 years old.
"It's always nice to be in first place in the international arena at Hickstead - it just happens to have been a while since my last one!" said Ellen. "But it's a lovely win for a few reasons – one, because it's been a tricky route back, two, because she's a homebred mare, and three, because her half-bred sister Lavano won it with my brother Joe a few years ago. Both are by Locarno, who loved that arena and his offspring also do."
Ellen had a lot of success as a young rider and made a successful switch to senior competition, but she has had a bit of time out from competing at the highest level after having her two sons. Now she is back at the top, having been longlisted for the European championships, and her win at Hickstead today proves she's on great form. "It's nice to go into a class like that with a fighting chance and feel like myself again - to feel at home," added Ellen.
The Longines Royal International Horse Show takes place at Hickstead in West Sussex (23-28 July), with international showjumping being held alongside championship showing classes and national jumping competitions.