GB's Team NAF victorious in Dublin & secure their place in Barcelona
Friday 09 August 2019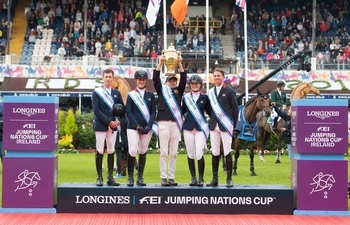 The British team, competing under the sponsor banner of Team NAF, took an emphatic victory in the Longines FEI Jumping Nations Cup™ of Ireland this afternoon at the Dublin Horse Show. This was the fourth point scoring leg of the series for the Brits in Europe Division 1 and in taking the maximum 100 points available, the team also secured their place in the Longines FEI Jumping Nations Cup Final.
Great Britain showed they meant business by leading the charge from the start. Commanding pole position from the outset, the Brits continued to pull forward to where the other seven nations couldn't come close resulting in a win without the fourth rider needing to jump in round two.
First up for Great Britain was Ben Maher MBE from Bishop's Stortford, Hertfordshire and he was on board Concona, a 9 year-old chestnut mare owned by Jane Forbes Clark and Poden Farms. In round one, just a single pole fell at the combination for 4 penalties. In round two, they remained clear over all of the fences and added just a single time penalty to their overall score.
Scott Brash MBE from Peebles, Peeblesshire and based in Horsham, West Sussex was in next with Hello Jefferson, a 10 year-old bay gelding owned by Lady Pauline Kirkham and Lady Pauline Harris. This combination were immaculate in both rounds and produced a superb double clear.
The third rider in was Emily Moffitt who is based between Evesham, Worcestershire and Florida, the USA with Winning Good, a 10 year-old bay gelding owned by Poden Farms. Two fantastic rounds from this pair saw them also return home with a double clear.
Holly Smith from Loughborough, Leicestershire was today's anchor with Hearts Destiny, a 10 year-old British bred bay gelding she co-owns with TJ Hall Limited. Holly, who has recently returned from injury, jumped clear in the first round and such was strength of the team, there wasn't a requirement for her to jump again as the win was already secured.
The far reaching lead that Great Britain had secured themselves with just a single penalty finish score saw them finish 11 penalties ahead of Italy who took 2nd place. Home nation Ireland, had to satisfy themselves with 3rd place on their score of 16 penalties whilst Swizerland took 4th on 21 penalties. The Netherlands, who would have been hoping for a better score than their one of 24, finished in 5th place which worked well for Great Britain who had gone into the competition knowing that they had to finish at least four places ahead of them if they were to secure their place in the Final. Mexico and Sweden took the following two places respectively.
The Chef d'Equipe accompanying the team was World Class Performance Manager for Showjumping, Di Lampard, who commented "We came here confident and knowing the job in hand and I'm delighted to say it all came together. The stars were aligned that we also got the Barcelona qualification and I have to pay tribute to the riders who delivered fantastic performances today. In particular with Emily Moffitt who was jumping at her first 5* Nations Cup today and secured the win with her double clear meaning we didn't need to field our second rider. Scott was amazing, as always, with a superb double clear. Holly's clear was foot-perfect which bodes well for the European Championships and I would also like to express my thanks to the owners, without whom this success wouldn't be possible."
For full results and standings, visit https://bit.ly/2OOazZT. The Longines International Grand Prix of Ireland will be on Sunday 11th August at 15:00 hrs local time. Full information in respect of the FEI Nations Cup series can be found by visiting www.fei.org. FEI TV will be showing live footage from the event. To access this please visit www.feitv.org.
British Showjumping would like to thank NAF, title sponsors of the Senior Nations Cup Teams along with the Children, Junior, Young Rider and Veteran teams.
NAF's premium range of Five Star brands include Superflex, Superflex Senior, PROFEET, Optimum, Magic, Oestress and Respirator Boost with quality at the heart of everything they do. They are a UFAS (Universal Feed Assurance Scheme), GMP+ (International Feed Assurance Scheme) and BETA NOPS (Naturally Occuring Prohibited Substances) accredited company and this enables them to guarantee full traceability on all the natural ingredients they utilise in their formulations, which are also selected in compliance with the FEI guidelines for Clean Sport. For further information, visit www.naf-equine.eu/uk/index.jsp.
The GBR showjumping teams are supported by the British Equestrian Federation's World Class Programme, funded by UK Sport through the National Lottery. The Programme focuses on identifying talent, developing potential and maximising medal-winning performances on the world stage.