Graham Babes takes the SEIB Winter Novice Qualifier win at Morris Equestrian Centre
Tuesday 20 November 2018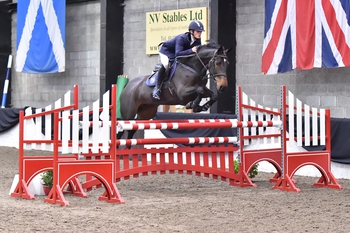 Morris Equestrian Centre in Kilmarnock, Scotland held the third of this year's SEIB Winter Novice Qualifiers. Sixty-seven competitors came forward to tackle Rafael Suarez's 12-fence-track and it was Graham Babes who took the top spot.
With just two qualification places on offer for this year's Championship Final which will be held at the prestigious Royal International Horse Show at Hickstead, West Sussex next summer, a hot competition followed. One sixth of the initial combinations claimed a place in the jump off with just six combinations going on to produce a double clear.
Riding his own 6 year-old dark bay mare Ma Fleur JS, Graham from Waterside, Kilmarnock produced a solid clear round to claim a place in the jump off. Delivering consistency and speed the pair managed to cross the finish line in 36.49 seconds beating second placed Cameron Rogan and Adalia II by just 0.05 of a second.
Morris Equestrian Centre – Thursday 15th November 2018
SEIB Winter Novice Qualifier Results
1st Graham Babes & Ma Fleur JS - 0/0 – 36.49 seconds
2nd Cameron Rogan & Adalia II - 0/0 – 36.54 seconds
NB: Qualifications will be updated on the website pending official grading of results.
Image: Graham Babes & Ma Fleur JS in action in the SEIB Winter Novice Qualifier at Morris Equestrian Centre (CREDIT: Equiscot Photography)
SEIB:
SEIB Insurance Brokers formerly known as South Essex Insurance Brokers are in the top 75 brokers in the country and have been in business for over 50 years. SEIB Insurance Brokers specialise in niche markets and equestrian insurance is a large part of the business. Communication is an important key to the company's success and the ability to talk to people, explain policies and help with problems is regarded as its greatest asset and is the reason they have won many industry awards for customer care. SEIB Insurance Brokers have competitive rates for horse, horsebox, trailer, homes with stables, liability and anything else equestrian. Call for a quote on 01708 850000 or please visit www.seib.co.uk.