HORSE OF THE YEAR SHOW 2018 - RESULTS
Sunday 07 October 2018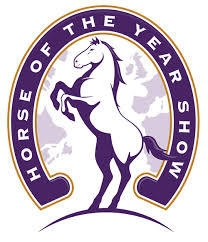 HORSE OF THE YEAR SHOW 2018
Well what a week for our Scottish riders at Horse of The Year Show 2018!! Congratulations to everyone that travelled south to this momentous show to compete.
Please see below a list of the Scottish placings 1st – 6th and the full results are on the link below:
Equithème Leading Pony Showjumper of the Year
1st – Shaunie Greig riding Casino Royale VIII – 2nd year running!
Pony Foxhunter Championship
5th – Chloe Templeton riding Still Got Me
6th – Megan Morris riding RS Capello
British Showjumping Silver League Championship.
1st – Lucinda Stewart riding Cancun II
Horseware Bronze League Championship
2nd – Lucy Rennie riding Parkhill Legacy
5th – Meghan Ballantyne riding Cookie De Reve
https://results.scgvisual.com/2018/birmingham/