Michelle Warnock lands the Nupafeed Supplements Senior Discovery Second Round at The Cabin Equestrian Centre
Monday 08 July 2019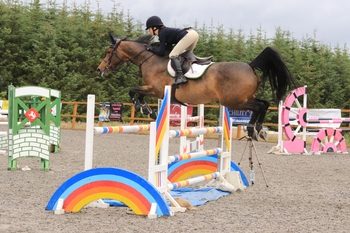 The Cabin Equestrian Centre in Inverurie, Aberdeenshire played host to another of the three Nupafeed Senior Discovery Second Rounds that were taking place across the country over the weekend and it was Michelle Warnock who made her trip a successful one with Denise Sharpe's Harlinneke.
All starting combinations set out to gain a treble clear to ensure their place in the Nupafeed Supplements Senior Discovery Championship Final at the British Showjumping National Championships in August but only six of the initial starting field managed to navigate their way around course designer Diane Beaumont's eleven fence track with just two going on to produce a treble clear.
Michelle Warnock from Strathaven, South Lanarkshire steered the 7 year-old British bred mare by Azzuro, Harlinneke, whom Michelle has been riding since 2017, to victory with a treble clear in 44.89 seconds. Jodie Maher produced the only other treble clear in the class with her own Icasall, a 6 year-old German bred gelding by Cabachon who crossed the line in 51.14 seconds.
The Cabin Equestrian Centre – Sunday 7th July 2019
Nupafeed Supplements Senior Discovery Second Round
1st Michelle Warnock & Harlinneke – 0/0/0 – 44.89 seconds
2nd Jodie Maher & Icasall – 0/0/0 – 51.14 seconds
NB: Qualifications will be updated pending official grading of results.
Image: Michelle Warnock & Harlinneke at Cabin Equestrian Riding Centre on Sunday in the Nupafeed Senior Discovery Second Round (Credit: JUMA Photography)
The British Showjumping National Championships 2019 will take place during the 6th – 11th August at the National Agricultural and Exhibition Centre (NAEC), Stoneleigh Park, Warwickshire.
Nupafeed Supplements:
Imported from Germany, Nupafeed supplements combine advanced scientific research with the highest quality ingredients to make their products truly unique. The Nupafeed range includes: the highly acclaimed MAH® Calmer, Flex GLM (Green Lipped Mussel) joint supplement and Staying Power to aid energy, strength and stamina. Used by top professionals, including John Whitaker and Ben Maher, Nupafeed products are permitted for competition and are available by mail order. Nupafeed aims are to ensure an unbeatable quality of product, supplied with friendly and honest advice. The team have experience assisting customers who represent all levels of horse ownership. For more information, visit www.nupafeed.co.uk.