Shaunie Greig retains her title in the Equithème Leading Pony Showjumper of the Year Championship
Friday 05 October 2018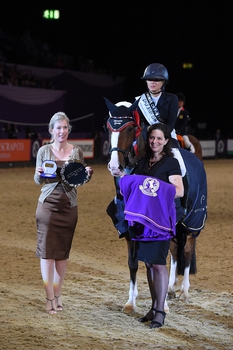 Shaunie Greig hailed her "one in a million" pony after joining an exclusive Horse of the Year Show club on Friday. The Scottish teenager retained her title as Equithème Leading Pony Showjumper of the Year on Casino Royale VIII, and in doing so became the first combination to win the prestigious class twice in a row since Nicola Loffett and Kangaroo won 51 years ago.
Shaunie was in unstoppable form, blazing around the jump-off course in a time of 32.22 seconds to win by more than three and a half seconds from runner-up Madison Heath, riding Flavia, with Faye Sutton and Robe Ruadh taking third.
Nine combinations made the jump-off from 24 starters in a competition that featured all the members of Great Britain's gold medal-winning European Championship team from earlier this year, and it did not disappoint.
But Shaunie, who is from Clackmannanshire, proved to be in a different league on a pony owned by her grandmother Anne as she highlighted why so many astute judges in the sport are predicting a glittering riding career for her.
Few among a bumper crowd in the Andrews Bowen International Arena at Birmingham's Genting Arena would disagree, and they roared their approval as Shaunie posted the most emphatic of triumphs.
"I didn't really think we were going to do it again, but we managed it," she said. "I knew he could be as quick as that, though. It was amazing. I got in the arena, and I just thought I am going to give this my all. To win it twice in a year is amazing, and I just want to thank everyone who supports me so much. He is a one in a million pony, totally amazing."
Link to audio interview with Shaunie Greig.
Equithème:
Established in 1985, Equithème has gone from strength to strength in creating beautiful collections for both horse and rider. Designing and developing matching collections using fun and vibrant colours, the stylish ranges make the brand stand out in the equestrian market around the world, by using high-tech quality fabrics and a focused attention to detail with a French touch. This established French brand is famous for its forward-thinking style and one of the most iconic collections across Europe. Horse wear and apparel by Equithème is always designed around what riders, horse owners and horses themselves need out of their clothing or equipment. For more information please visit http://www.equitheme.co.uk.
Photo Credit: 1st Class Images