Berkshire's Tatiane Mauree wins the Winter Grade JC Qualifier at Aintree Equestrian Centre
Friday 25 January 2019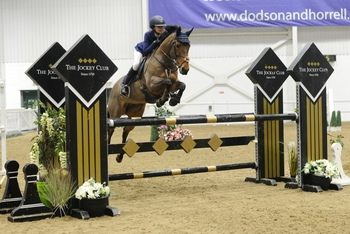 January has got off to a flying start for this month's NAF Shining star winner Tatiane Mauree. Within the first three weeks of this year, 14 year-old Tatiane from Newbury, Berkshire has already achieved one of her 2019 goals which was to qualify for the Winter Grade JC Championship at the Royal International Horse Show, Hickstead in July.
Tatiane achieved this aim in style by winning the first of this year's qualifiers at Aintree Equestrian Centre on Saturday. Tatiane was on board her mother Arlina's 9 year-old bay mare Horseabout Zibu, known as Boo at home, and they jumped treble clear in a competitive jump off to claim the win in 31.37 seconds.
Tatiane credited her recent efforts to improve the pairs flatwork which enabled her to pull off an inside turn to the penultimate fence to clinch the victory. "Boo really tries to understand what I want from her and we are so lucky to have such a great bond; she always gives me 100%" said Tatiane.
Tatiane, who is trained by Eleni Murphy and Jess Dimmock, now plans to step up to the Charles Britton Equestrian Construction Winter JA Classic Qualifiers. "We will take our time and gradually progress with the aim being to jump a Winter JA Classic Qualifier before the end of the Winter Pony Premiers. I am also looking forward to the Summer Pony Premiers as I know Boo and I will have fun no matter what the results."