County Show Time
Thursday 11 April 2019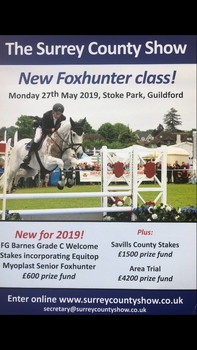 The County Show circuit is about to get underway with the Surrey County & Bexhill Show on the 27th May 2019. Surrey County have included a Foxhunter class to compliment the existing Grade C, County Stakes & Area Trial with a prizefund exeding £4000.
Roll into June with the South of England offering a wide variety of classes including an International Stairway.
July takes us to Kent County who also are providing a wide variety of class and have introduced an International Trial with a prizefund of £9000. The International Trial provides for double points for those looking to qualify for the Queen Elizabethh II at Hickstead 2020.
August gives us Edenbridge & Oxted with an Area Trial in the main ring and various classes from Discovery upwards in the second outside ring
September we finish with Henley, Romsey & Thame Shows who are running from Discovery up to Area Trial. Royal Berkshire County is again running the final International Stairway for 2019 along with a varied schedule in ring two. This will also include Just for Schools Teams, those juniors who are wish to compete as part of a team in a County show environment now have this wonderful opportunity.
All the County Shows have confirmed that the preperation of the ground to provide the optimum footing is a priority for 2019 and this will be monitored on a monthly basis, so lets get along and support Showjumping in front of the public and these Count Shows.
If you have any queries/questions re County Shows and/or dofficulties entering please email: peter.hurley@britishshowjumping.co.uk