Georgie Strutton wins The Champagne Cave Winter Grades B & C Championship at Hickstead's BHS Royal International Horse Show
Saturday 28 July 2018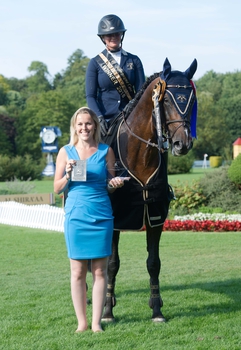 Georgie Strutton has won The Champagne Cave Winter Grades B & C Championship at Hickstead's BHS Royal International Horse Show on Wednesday 25 July.
The class produced three double-clears, but Surrey-based Georgie took the honours as she pipped Trevor Breen to the win, riding P Sultan's stallion Khaled O L.
Georgie said; "I wanted to win it; Trevor was right before me so luckily enough I was in the ring when he jumped. I know the horse very well, I've been riding him for just over a year now. He covers the ground really well and is very easy to turn.
"He has such a big canter you know can just get that and it doesn't really change; he feels great in a big arena like that. It's nice to win any final – I actually only qualified yesterday but I'd pre-entered because I thought I'd already qualified at Crofton!"
The Longines FEI Jumping Nations Cup™ of Great Britain at the BHS Royal International Horse Show (25-29 July) is one of the oldest equestrian events in the world, as well as one of the biggest outdoor horse shows in the country.
It offers everything from the skill and power of international showjumpers clearing vast fences, the precision of top class show horses and ponies putting in foot-perfect performances, and the speed and exhilaration of the scurry drivers and event riders galloping around Hickstead's famous International Arena.
Showjumping highlights include the Longines FEI Jumping Nations Cup™ of Great Britain, the Longines BHS King George V Gold Cup, the BHS Queen Elizabeth II Cup and the MS Amlin Eventers' Challenge. These historic classes attract the very best riders in the world, and there's no better place than Hickstead for getting up close to these equestrian superstars.
Image Credit: LewisHarding Photography
The Champagne Cave:
The Champagne Cave was set up in order to source the best vintages from small niche growers in France and is now predominantly supplied by small family run vineyards. The company regularly visits the Champagne region to check on the produce and witness the production process first hand. The Champagne Cave has handpicked some of the finest champagnes, many of which are not found for sale elsewhere in the UK. Their 'clos' wines are from one of the few remaining walled garden vineyards whilst their Grand Cru magnum champagnes are made by a grower who only produces 500-1000 magnums a year. Shop the selection via www.thechampagnecave.co.uk.