Horse of the Year Show International Wild Card qualifier - Incorporating the National Speed Horse Final
Saturday 10 August 2019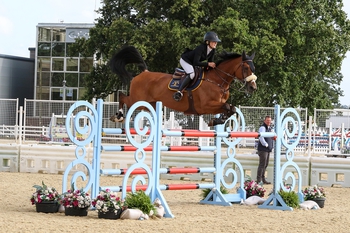 Day 5 of the British Showjumping National Championships 2019 saw the second leg of the Horse of the Year Show International Wild Card qualifier in Championship Arena one with the National Speed Horse Final. Once again the crowds watched in anticipation to see who would take the highly-coveted title. Not letting the pressure from her peers get to her, 22 year old Georgia Tame riding Quintella, owned by Sultan Saud, flew to victory, being one of the last riders to compete in the class. "There weren't many clears, it was a tricky course and if you set off fast too early on in the course, the horses just got flat towards the end and lose respect for the fences".
The pair have been on impressive form winning an Old Lodge 1.30m Open (Qualifier for AEJC 2019) at Longines Royal International Horse Show last month. "She's very careful and needs a lot of leg, but on the other hand can be strong- so it's the balance between the two."
Georgia will also be competing in the last leg of the Wildcard Qualifier tomorrow, where she hopes to take another title.
Joe Fernyhough and Calcourt Quicktime take second place after being in the lead right up until the end of the class, with James Smith and Simply Splendid taking third.
As we head into tomorrow, the third and final day of the HOYS International Wild Card Series, we will not only see the winner of the four Wild Cards on offer, but we will also see a new British Showjumping National Champion crowned for 2018. The Wild Card League Points Table after the second leg can be found here: https://www.bsnationalchampionships.com/wp-content/uploads/2019/08/Wildcard-League-100819-2.pdf
Photo credit: 1st class images