Junior Academy Members Shine at Aintree
Monday 21 January 2019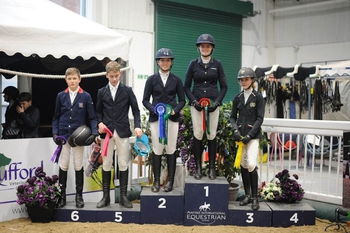 Great results for three Central Academy riders, Jodie Burchmore-Eames, Megan Li and Eloise Burden and Berks / Oxford Junior Acadmey rider Tatiane Mauree over the weekend at Aintree Equestrian Centre in Liverpool during the 148cm Pony Premier Show.
In the Charles Britton Equestrian Construction Winter JA Classic Championship, which will take place at SouthView Competition & Training Centre in Cheshire across the weekend of the 6th – 7th April 2019, Jodie Burchmore-Eames, from Northchurch, Hertfordshire, who turned 16 earlier in the week, celebrated with a win in Saturday's qualifier on board Sadie Burchmore's 15 year-old dun gelding, Robe Ruadh. With just two combinations through to the second round, Jodie opted to claim the win without jumping a third round after Megan Li and her ride Harry faulted in the second round. Jodie finished at the top of Saturday's leader board with a double clear in 40.07 seconds.
Charles Britton Equestrian Construction Winter JA Classic Qualifier Results:
1st Jodie Burchmore-Eames & Robe Ruadh – 0/0 – 40.07 seconds
2nd Megan Li & Harry – 0/12 – 42.38 seconds
Jodie, riding Mouse also went on to win one of the Winter Grade JC Championship Qualifiers, with the final at the Hickstead RIHS
Tatiane Mauree, who was recently the winner of the NAF Shining Star award for January 2019, won the second Winter Grade JC Championship Qualifier on offer riding Horseabout Zibu with Eloise Burden second riding Coolatooder Liath, a brilliant effort.
For information re the Academies and the NAF Awards please fokkow the links below or contact: peter.hurley@britishshowjumping.co.uk
http://www.britishshowjumping.co.uk/training/Academies-1
http://www.britishshowjumping.co.uk/training/5-Star-Award-Training