Just for Schools Direct Qualifier
Monday 03 June 2019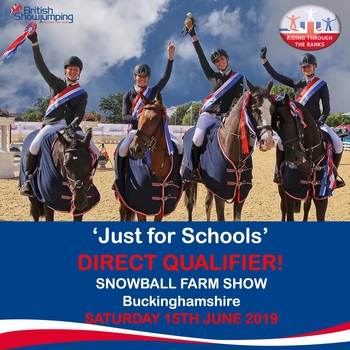 Snowball Farm, Dorney Wood Rd, Burnham, Slough SL1 8EH will be hosting the South East Just for Schools direct qualifiers on Saturday 15th June 2019.
The Summer 'Just for Schools' Championships are held annually at the British Showjumping National Championships in August and there are two routes of qualification: 1. Leagues Tables - The top 8 teams and top 10 individuals from the league tables in each height category will qualify. 2. Direct Qualifiers - There are five direct qualifiers held around the country and there is no restriction on how many you may attend. The top team and top 3 individuals in each height qualify, disregarding those already qualified. All combinations must complete the course in single phase competition or first round under table A7. Riders can qualify as an individual and as part of a team. Qualifications will also pass down the leagues with regards to teams and individuals that have already qualified.
Eligibility 'Just for Schools' • Open to riders aged 5 - 19 years-old. A riders age is taken from the year in which the rider reaches this age. • Riders may not compete a horse before the calendar year in which they turn 12 years-old. • Riders may not compete in classes above 90cms in height before the calendar year in which they turn 8 years-old. • There is no age restriction on riding a pony. • Horse/Pony and rider combinations that have received Gold League British Showjumping points are ineligible for 70cm, 80cm and 90cm classes. • Riders must be in full time education at the School or College they represent. • If riders change institutions throughout the year they can compete for their new school but can only represent one school at the Championships. • Riders may not ride two horses/ponies in the same team. One horse/pony cannot be ridden by two separate riders in the same class. • All riders in the JFS championship team must have competed for the same team in at least one competition throughout the league period (July - June). • Stallions are not permitted to compete in Just for Schools classes.
Just for Schools' Membership Fee - Team - £30 including individual members registration. Individual - £30 for an individual if not already a member of British Showjumping, The Pony Club or British Riding Clubs. A School or College team can be made up of three to four team members, which can be interchanged throughout the year. Along with each team application form please submit an individual application form for each horse/pony & rider as well. Riders who are members of British Showjumping, British Riding Clubs or Pony Club can register as an individual for free but you do need to complete and return the 'Just for Schools' membership form within seven days of competing. If you are not a member of any of the above you can join for just £30
For entries please follow the link below and we look forward to seeing at Snowball Farm
https://www.snowballfarm.co.uk/snowball-events/enter-online/