Katie Bradburne and Runaway Dolly take the Pony Bronze League 128cm Title
Thursday 09 August 2018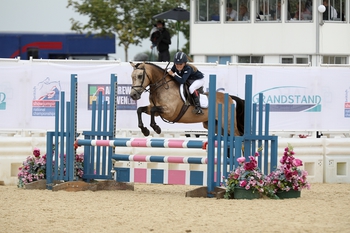 Katie Bradburne and Runaway Dolly put in a stellar performance to take the Pony Bronze League 128cm Championship against 16 other competitors as they flew past the jump off finish line in 29.61 seconds. "Dolly is actually my brother's pony but a few years ago he broke his arm so I started riding her and now I make him share her! I do the Olympia qualifiers and he does the HOYS ones, but since it's his last year on ponies, I get to steal her full time! She is quite prone to going really fast in the jump off and making us feel like we have it in the bag and then taking the final fence down, so I am so happy she didn't do it this time." Explaining about the mare's nickname, Katie continues: "One of my friends started calling her Dolly Woman and it just caught on so now we call her 'Woman' for short."
Katie has enjoyed great success in this class; she won it last year with Cappagh Misty who is now retired and she continued her good form today by also taking fourth place with Jack XX, a tiny 11.1hh bay gelding. "Jack usually does 70cm classes so this was a big track for him. I had an unlucky four faults in the Stepping Stones 128cm when we had the second fastest time, so I am glad we did better today!"
Being the highest placed Pony Club member in the class, Katie, who is a member of Old Berks Pony Club, was awarded the Pony Club sash on top of the Championship sash.
The Bronze and Silver Pony/Rider Combination League was introduced by British Showjumping in 2014 and allows all pony riders to be able to track their progress on a regional and national league table. There are three leagues; Bronze, Silver and Gold and they are split into three height categories of 128cm, 138cm and 148cm.
It is not only competitors who are guaranteed a fabulous day out, the British Showjumping National Championships also offers a great family day of exciting competition, hospitality and afternoon tea offerings and a retail shopping village. Entry for spectators wishing to take advantage of this fantastic show is free and parking is only £5 per car. For more information please go to http://www.bsnationalchampionships.com/ or call 02476 858205.
Image Credit: 1st Class Images