Saywell off to a flying start at Hickstead
Thursday 20 June 2019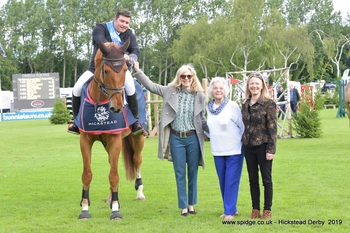 Nottinghamshire rider Jake Saywell started his Hickstead week as he means to go on, taking the win in the Annual Grade C Championship over a tough 1.30m course at the All England Jumping Course.
Saywell rode eight-year-old Dutch Warmblood gelding Galaxcy IX to the top spot, delivering an unsurpassable time of 34.10 sec to edge the win from William Rekert and Hot Bluebird.
"He looks a real top one for the future – he's careful, he's scopey, and he goes in the big arenas and really relishes it," said Saywell. "He's an exciting one, and it's all effortless for him – but he finds another gear in the ring, and he's a real horse for the day. To win this type of class is very good for him."
Previously based at Hickstead with top rider Shane Breen, Saywell shifted his competitive focus from rugby to showjumping in his mid-teens. Despite making a relatively late debut on the international stage, he's already notched up some impressive results, including individual tenth – and team gold – at the 2014 Youth Olympic Games, and team gold at the 2017 Young Rider European Championships in Slovakia.
"It's lovely to come back to Hickstead, and we make sure we never miss a show. To have a win is fantastic, especially in the main ring – any win is great, but to win in the main ring is why we do it."
For full results https://results.scgvisual.com/2019/hickstead/r13.html