Andrew James wins the Nupafeed Supplements Senior Discovery Second Round at Chard Equestrian Centre
Monday 17 June 2019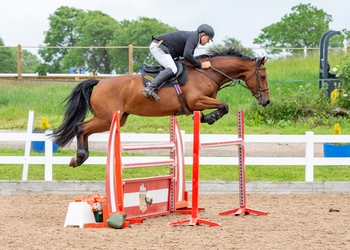 Chard Equestrian Centre in Chard, Somerset held on of two Nupafeed Senior Discovery Second Rounds that were taking place across the country on Sunday and it was Andrew James who made his trip from Cornwall a successful after taking the win with his own Lupe Lana.
Fifty starting combinations came forward to take on Krissy Speller's twelve fence track with the hopes of gaining a treble clear to secure their place in the Nupafeed Supplements Senior Discovery Championship Final at the British Showjumping National Championships in August but only eighteen made it through to the final round with seven going on to produce a treble clear.
Bodmin based Andrew piloted his homebred 5 year-old Lupe Lana, by Lupe, who only stepped up to Discovery in March, into the top spot after producing a lightning fast round of 40.79 seconds. Zoe Legg rode Robert Legg's Gerlina Van De Linthorst, an 8 year-old Dutch bred mare by Sheraton into second, they crossed the line in 44.53 seconds.
Third place went to Zoe Coombes and her own Electric III, a 10 year-old Belgian bred whom Zoe has been competing for two years. They posted a time of 46.10 seconds. Fourth place went to Ria Comins and Sara Williams' Santa Barbara, they finished in 47.74 seconds. Catherine Macbeth was awarded fifth with her own Levisoun whilst Kathryn Ellison and Kim Leslie's Valhalla and Mollie Smith and Captain Jack Sparrow Z earnt the final treble clears and sixth and seventh place respectively.
Chard Equestrian Centre – Sunday 16th June 2019
Nupafeed Supplements Senior Discovery Second Round
1st Andrew James & Lupe Lana – 0/0/0 – 40.79 seconds
2nd Zoe Legg & Gerlina Van De Linthorst – 0/0/0 – 44.53 seconds
3rd Zoe Coombes & Electric III – 0/0/0 – 46.10 seconds
4th Ria Comins & Santa Barbara – 0/0/0 – 47.74 seconds
5th Catherine Macbeth & Levisoun – 0/0/0 – 48.32 seconds
6th Kathryn Ellison & Valhalla – 0/0/0 – 53.26 seconds
7th Millie Smith & Captain Jack Sparrow Z – 0/0/0 – 53.61 seconds
NB: Qualifications will be updated pending official grading of results.
Image: Andrew James & Lupe Lana at Chard Equestrian Centre on Sunday in the Nupafeed Senior Discovery Second Round (Credit: Rob Bayes Photography)
The British Showjumping National Championships 2019 will take place during the 6th – 11th August at the National Agricultural and Exhibition Centre (NAEC), Stoneleigh Park, Warwickshire.
Nupafeed Supplements:
Imported from Germany, Nupafeed supplements combine advanced scientific research with the highest quality ingredients to make their products truly unique. The Nupafeed range includes: the highly acclaimed MAH® Calmer, Flex GLM (Green Lipped Mussel) joint supplement and Staying Power to aid energy, strength and stamina. Used by top professionals, including John Whitaker and Ben Maher, Nupafeed products are permitted for competition and are available by mail order. Nupafeed aims are to ensure an unbeatable quality of product, supplied with friendly and honest advice. The team have experience assisting customers who represent all levels of horse ownership. For more information, visit www.nupafeed.co.uk.